200 professional mermaids? Who knew?…Another reason to go to Vegas!
VIA – LAS VEGAS SUN

Mermaid Convention to include 3D swimming with sharks film
By Robin Leach (contact)
Thursday, Aug. 11, 2011 | 11:17 a.m.
More than 200 professional mermaids from around the world splash onto The Strip this weekend for the first-ever World Mermaid Convention and Awards. During the two-day event, featured star Hannah Fraser, who arrives in Las Vegas today, will debut her new 3D underwater film of her swimming with sharks.
The world's largest mermaid party is being hosted by Sita Lange, creator of the Maui Mermaids show from Hawaii, at the Silverton Casino Lodge with its giant aquarium tank. There are various award categories such as Best YouTube Video, Youngest Mermaid and Most Environmental Mermaid.
Who knew there were enough mermaids around the world to have their own show in our world capital of conventions?
"I hope I will be allowed to perform my show in the tank as part of the celebrations," Hannah told me. She can hold her breath for two full minutes before taking oxygen from a nearby air tank.
"It's also going to be the debut mainland performance of my new rainbow-colored fish tail. It took four months to make and has more scales on it than ever before. I have refined my tail making, so this is now not only the most functional but also the prettiest!" added Hannah, who will debut her dance act "Five Fingers Fire."
The highlight of Hannah's presentation will be a 3D underwater film of her diving in a shark farm off the Bahamian coast where she regularly stars at the Atlantis casino resort. Here's a YouTube preview she wanted Vegas DeLuxe readers to see:
"One bumped me on the shoulder and one bit my tail, but with a large mouthful of plastic, it decided I wasn't dinner! That was scary 40 feet down. Fortunately, I can hold my cool underwater and kept my wits about me, but it was a very frightening moment," said Hannah, who was not inside a shark-safety cage.
For the full story and more cool photos, go here:
http://www.lasvegassun.com/news/2011/aug/11/mermaid-convention-include-3d-swimming-sharks-film/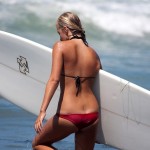 Become A Sponsor!
If you have a product or service that is a good fit for our surf community, we have opportunities for you to sponsor this blog!
Download our media kit now!