VIA – STAB MAG
Ricardo Dos Santos shot, in critical condition.
After getting into an altercation on the beach at Embaú Guard, Santa Catarina-born surfer, Ricardo dos Santos, was shot three times in the abdomen.
Quickly helped by his nearby friends, Ricardo was airlifted to St. Joseph's Hospital where he immediately entered emergency surgery. According to press officer Bruno Vicaria, one of the three shots punctured Ricardo's kidney and lung.
Witnesses say that Ricardo engaged a group of people who were doing drugs and playing loud music on the beach access. This discussion ended with three shots. One suspect was apprehended, while the region's police force is on high alert, searching for the others.
Ricardo's close friend, Bruno Zanin, commented on the incident on his Facebook page, claiming it all began with a verbal discussion.
"My friend and brother Ricardo dos Santos has just been taken to the hospital after taking shots at the Guard. Please guys, send good vibe, pray, pray, regardless of beliefs! A little verbal discussion and a son of a bitch gang [pulled] a gun and [did] it. The value of life ceased to exist!" (Translated).
Ricardo is in critical condition. Stay tuned for more information.
Source:
http://stabmag.com/brazilian-surfer-ricardo-dos-santos-in-critical-condition-after-being-shot/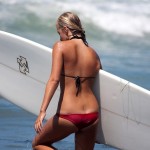 Become A Sponsor!
If you have a product or service that is a good fit for our surf community, we have opportunities for you to sponsor this blog!
Download our media kit now!