For the second summer in a row I made a quick jaunt to California to check out the Volcom Swim show. The brand, which is near and dear to my heart (I would regularly rock Volcom as a teen in Denver, Colorado), started in 1991 with the mission of wanting to provide a way for creative youth to unite and express themselves together. Nearly twenty years later the unique label has built a mass following that includes many athletes, artists and musicians.
The runway presentation was held at downtown Los Angeles' Cooper Design Space. Models channeling a rebel Mad Max-meets-Rainbow Bright attitude (I loved the colored fabric braided in their hair) showcased this year's swim collection—a sexy mix of statement-making, asymmetrical one pieces and fierce, tiny bikinis that incorporated bight and playful tribal and tie-dyed prints.
Now that I'm back to my concrete confounds on the East Coast and missing the California breeze, I caught up with swimwear designer Suzanne Vallely to get the inside scoop on Volcom's latest collection and about her career in swimwear designing.

1. What inspired you the most when creating this collection?
The pieces are influenced by nature, music and everything in between.
2. What was the feel of the collection that you wanted to convey?
The vibe for this line was "tribal punk."
3. What is your favorite piece in the collection and why?
Picking just one is very difficult. 10 designer pieces were created just for the show. I really love these pieces because they are one of a kind "works of art" and I don't have to take into account things like "how many will sell?" and "who is this going to fit?" I have the opportunity to think freely and showcase the trends in a fun, exciting way.
4. Have you always designed swimwear?
Yes, my passion for swim began at a very young age and I feel very fortunate to have a job that allows me to do what I love! I have always been drawn to the prints and colors. I enjoy the challenge of making a relatively small canvas that enhances a girls body. I also love finding new ways to put a twist on a traditional silhouette.
5. What do you you always need to keep in mind as a swim designer?
For me it is important to keep in mind that a swimsuit is not like your everyday clothing…it's very personal and can make you feel great or NOT so great! As a designer I try to keep in mind girls come in all shapes and sizes, they all have very different needs. Its my job to try and keep the line balanced and have something for everyone. I want all the ³Volcom² girls to walk the beach, pool, lake side with confidence and feel nothing less then AMAZING!
6. So who is the "Volcom girl"?
She's Unique. Edgy. Intelligent. Dynamic. Bold. Stylish. Her motto is ³the only constant is change!² She lives in every city, in every state, in every country. She expresses herself thru her clothing and lifestyle.
7. Is there something that sets Volcom's swimwear apart?
What sets our swimwear apart is the versatility… Our collection is designed to give the customer the opportunity to be the "designer" Mixing and matching prints with solids and or other prints, creating a look that suits her needs and is as unique as she is.
To see the full interview visit: http://www.teenvogue.com/style/blogs/styleblogger/2010/08/tribal-love-volcom-swim-2011.html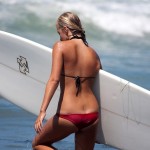 Become A Sponsor!
If you have a product or service that is a good fit for our surf community, we have opportunities for you to sponsor this blog!
Download our media kit now!