VIA – SHORE NEWS TODAY
Surf for a Cause this Saturday
Written by Staff Reports
Wednesday, 07 September 2011 11:12
0 Comments and 0 Reactions
MARGATE – The crowds may have thinned somewhat now that we have passed Labor Day, but the true die-hard surfers will take to the water this Saturday, Sept. 10 starting at 7 a.m. for the 11th annual Dean Randazzo Surf for a Cause.
Launched in 2000 to help cover medical expenses for Dean Randazzo as he battled cancer, each year Surf for a Cause has grown.
"This is going to be the biggest and best event we have had to date," said Dan Cellucci, event chairman and DRCF president. "There is really something for everyone this year."
The Surf for a Cause is a family event and includes an amateur and professional surf contest, a four-person team co-ed volleyball tournament, a 5K beach run, a 1-mile beach walk and lots of other fun at the beach.
The after party is presented by Ventura's Green House and begins at 4 p.m. with live music by Simple Minded Budz. There will be a dinner buffet, raffle items, 50/50 and silent auction.
The day-long event will feature a surf movie on the beach for the kids at dusk.
For additional information see www.deanrandazzocancerfoundation.org
For the original post go here:
http://www.shorenewstoday.com/snt/news/index.php/downbeach-/longport-margate-ventnor-events/16018-surf-for-a-cause-this-saturday.html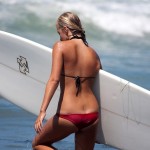 Become A Sponsor!
If you have a product or service that is a good fit for our surf community, we have opportunities for you to sponsor this blog!
Download our media kit now!