VIA – JACKSONVILLE
1943-2012: Bill Hixon, longtime owner of Neptune Beach surf shop, dies in Pennsylvania
Bill Hixon in 1981.
Posted: April 13, 2012 – 4:15pm  |  Updated: April 13, 2012 – 4:25pm
By
Matt Soergel

Bill Hixon, who opened Hixon's Surf Shop in Neptune Beach in 1964, just in time for the surfing craze sweeping the East Coast, died early Thursday at a hospice in Wyndmoor,Pa. He was 68.
He lived outside of Philadelphia and had moved to the Northeast shortly after closing his surf shop in 1990, after 26 years in business. But he wasn't forgotten at the Beaches.
In January, after news of his cancer spread, friends of Mr. Hixon gathered in Jacksonville Beach's American Legion Hall to tell stories about the long-time surf shop owner, a canny businessman who had become a mentor to hundreds of young surfers over the years.
"I know he's humbled and taken aback by all this attention," his son, Jerry Hixon, said that night. "He always told me, 'You do what you do, and after a while it turns out to mean a lot, to a lot of people.' "
The night at the American Legion was simulcast to Hixon's home. He got to watch it live, then watched a replay on DVD a couple of weeks ago with his brother.
"I'm just glad he's no longer in pain and that I got to have him as a father," Jerry Hixon said Friday.
Along with the surf shop, Mr. Hixon taught math at Fletcher High School, got an MBA from the University of Florida, opened several businesses and became a real-estate appraiser. He continued to work as an appraiser after moving to the Northeast as his second wife, Beth, went to seminary to become an Episcopal priest.
At one time, Mr. Hixon had surf shops at…
Read more at Jacksonville.com: http://jacksonville.com/news/florida/2012-04-13/story/1943-2012-bill-hixon-longtime-owner-neptune-beach-surf-shop-dies#ixzz1rxIxpuZQ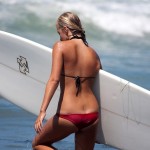 Become A Sponsor!
If you have a product or service that is a good fit for our surf community, we have opportunities for you to sponsor this blog!
Download our media kit now!