Jeff's a serious bad ass, he also charges Mavericks with one arm so the next time you make excuses why you're out of shape or can't get in the water, remember this dude…
VIA – MERCURY NEWS
Paddleboarder's extreme challenge
By Elliott Almond
[email protected]
Posted: 07/29/2011 07:42:26 PM PDT
Updated: 07/30/2011 12:11:30 PM PDT
This Sunday off the coast of Molokai, Jeff Denholm will steer his paddleboard toward Oahu and scratch at the cerulean blue water for 32 grueling miles.
Unlike the others partaking in this ancient Polynesian tradition, he will have the use of only one arm.
Paddle races that can take up to 10 hours to complete, such as the Molokai-2-Oahu World Championship, are among the toughest tests of physical and mental fortitude. But for Santa Cruz's Denholm, who lost his right arm while working on an Alaskan fishing trawler in 1993, this race is just another outdoor adventure.
"I'm 44 and ready for more," he says, a knowing twinkle in his eye.
It might not have seemed that way after a voyage on the Bering Sea one stormy day 18 years ago.
The seasoned sailor had worked as a deckhand on commercial boats in Alaska after leaving Boston's Northeastern University in the early 1990s. On this day, Denholm slipped into a hole that housed a fish processing machine and the drive shaft mangled his prominent arm.
His fellow deckhands tied a tourniquet, gave Denholm a shot of morphine and packed him in ice. "Then the clock started ticking," he said of the race to get him to a hospital before he would bleed to death.
It took 18 hours to transport him to Seattle. Doctors managed to save his life, but not the limb.
The day after surgery, Denholm whiled away his time in a hospital bed by seeing how fast he could strap on a scuba watch with
Advertisement
his teeth. The same inhibitions that had led Denholm to the wilds of Alaska weren't going to be easily displaced.
Not long after he left the hospital, the Maine native was firming up plans to move to the Rockies, where he could ski and hike. To expedite his return to water sports, Denholm even ripped the staples out of his healing wound himself.
But returning wasn't enough. He still wanted to "hammer," as he likes to say, charging as hard as humanly possible, challenging his innermost limits. Soon he found himself designing artificial limb attachments for surfing, climbing, sailing and mountain biking.
Though he eventually went back to school to study computer design and underwater mapping, and also dabbled in small business ventures, Denholm's wanderlust continued to be his driving force. He joined the Expedition Whydah as an expert scuba diver, spearfishing in shark-infested waters and helping search for Capt. William Kidd's sunken treasure off the coast of Madagascar.
These days, he often finds his adrenaline fixes closer to home, using his specialized arm attachments to backcountry ski in the Sierra Nevada, paddle into monstrous waves at Mavericks off Half Moon Bay, or fly down trails near his home on a mountain bike. (He lost several teeth after getting flung from his bike a few years back.)
It's just one big joy ride for the man whose paddling friends dub him "The One-Armed Bandit" for his prowess on Monterey Bay.
But when he's not playing, Denholm enjoys inspiring. He had a chance to meet with and encourage Hawaii's Bethany Hamilton of "Soul Surfer" fame during her recovery after losing an arm in a shark attack. He is also scheduled to visit an 11-year-old Colorado girl who recently lost an arm in a boating accident.
"I feel it is my calling," he said.
Denholm began paddleboarding about a decade ago to maintain strength and endurance. He paddles sleek, elongated surfboards while lying prone on his stomach or crouched on his knees — a prosthetic arm fitted with a paddling device helping provide equilibrium and propulsion. (This traditional prone style of paddling is in contrast to the recently popularized stand-up paddleboarding, or SUPing).
Sunday will be Denholm's third Molokai-to-Oahu crossing. The record is 4 hours, 48 minutes, 23 seconds, but it could take him close to seven hours even if all goes well.
So far, his preparation hasn't gone great, mostly because of malfunctions with his "paddle arm." Denholm has been working with a new rubberlike material in recent weeks that he hopes will stay glued to the artificial limb Sunday.
If not, he might have to finish the race using only his good arm.
"It's a two-arm sport," said Denholm, who is sponsored by the clothing company Patagonia. "I race myself, not the other guys. Even if I had two arms, it's me against the ocean."
The race is just the kind of event that attracts seafaring adventurers like Denholm, who was drawn to Santa Cruz's counterculture scene of expert surfers, mountain bikers, skateboarders and rock climbers. He's a member of the Ghost Ryders Watermen Club, a hard-core group of Monterey Bay paddlers that includes Mavericks standouts Zach Wormhoudt and Kenny Collins…
For the full story and more photos go here:
http://www.mercurynews.com/other-sports/ci_18581551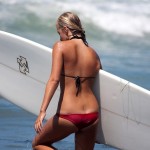 Become A Sponsor!
If you have a product or service that is a good fit for our surf community, we have opportunities for you to sponsor this blog!
Download our media kit now!