VIA – NBC LOS ANGELES
900-Pound Shark Brought in to Marina del Rey Landing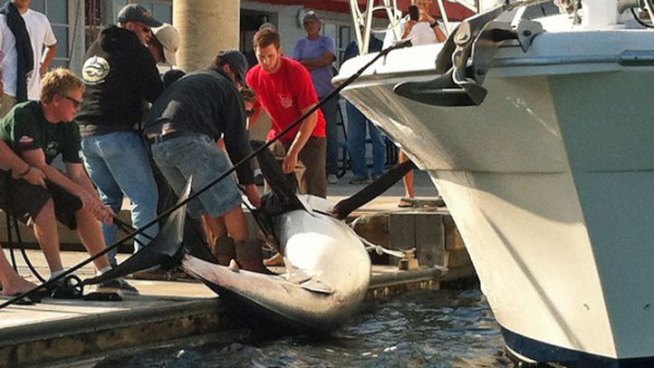 Tony Hall, Pacific Marine Yacht Club
A 900-pound shark was on Monday afternoon brought in to Del Rey Landing in Marina del Rey harbor, where it damaged the digital scale.
A monster of the sea was killed and brought in to a Marina del Rey – a shark so heavy that it damaged the brand-new scale at the dock.
The 900-pound shark took some eight men to lift it out of the water Monday afternoon at Del Rey Landing, the marina's general manager said.
"Our digital scale goes to 750, and it was bent before half of the shark was off the ground," said General Manager Craig Campbell, who was present when the giant shark was brought in.
The fishermen's battle at sea with the shark broke the on-boat equipment as well, Campbell said. They fishermen had to tow the shark back to the marina because it was too heavy to pull aboard, he said.
Campbell said the fish was thought to be a mako shark, a species that is often eaten. Makos that are brought in to the marina are usually in the 300-to-400-pound range, he said.
he fishermen who landed the shark were about 15 miles off the coast, according to the Marina del Rey Patch, which first reported the catch Tuesday. Campbell suspected it was caught on the far side of Catalina Island.
He said he didn't know their names.
Campbell said he thought the shark was caught by local fishermen, though he said don't keep boats at Del Rey Landing. The Marina del Rey Patch reported that the fishermen had gone to sea with the intent of catching a shark.
Most sharks brought in to the landing are donated to downtown Los Angeles food banks, Campbell said.
"Mako is fantastic," Campell said. "It's very good eating."
Campbell said he was uncertain what happened to the shark carcass and…
For the full article go here:
http://www.nbclosangeles.com/news/local/900-Pound-Shark-Brought-in-to-Marina-del-Rey-Landing-161293855.html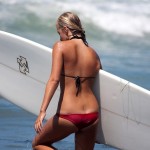 Become A Sponsor!
If you have a product or service that is a good fit for our surf community, we have opportunities for you to sponsor this blog!
Download our media kit now!