VIA – SANTA CRUZ SENTINEL


A surf legend's home, threatened by the sea: Jack O'Neill set to armor bluff along East Cliff
By JASON HOPPIN
Posted: 10/13/2011 05:22:39 PM PDT
PLEASURE POINT – Now the man who made it possible for so many to enjoy the sea is going to armor himself against it.
Jack O'Neill popularized wetsuits to brace surfers against cold waters, helping turn the sport into a year-round pursuit. He is still bracing against the sea, but this time on land: to keep the Pacific Ocean at bay, the surf icon is about to start building a seawall around his Pleasure Point home.
"We'll have it done in a few months," said O'Neill, who believes a new county seawall that runs along much the cliff is contributing to what is literally a deteriorating situation. "I wouldn't have this problem if they didn't build that wall."
Workers were recently spotted going over plans outside O'Neill's home, and O'Neill said the project could cost "a couple million dollars." It will wrap the bluff directly in front of his home, one of the very few on the seaward side of East Cliff Drive.
Though covering just a short distance, the project will extend an existing project. The county recently built 1,400 feet of artificial bluffs through Pleasure Point, protecting East Cliff Drive Parkway Seawall from sliding to the sea. But several blocks remain unprotected, including O'Neill's house.
Measured against O'Neill's stature – he started a multimillion-dollar business, has been in the International Surfing Hall of Fame for 20 years and was recently featured in a state tourism campaign – the house is modest. But its location makes it enviable by any standard.
The entry is on the top floor with the lower floors cascading down the bluff. Other East Cliff homes dwarf it in size and majesty, but O'Neill's house easily has the best view, offering an unobstructed window onto the Point's famed surf breaks.
Since he bought the home in the 1970s, O'Neill has worked to protect it. Rip rap was first laid down in the late 70s, and has been expanded over the years. But pounding surf forced the giant boulders to settle and spread out.
The wall will armor only O'Neill's home, with the cliffs along what locals lovingly call the "dirt farm" remaining natural. As part of Coastal Commission approval for the project, O'Neill, who owns the dirt farm property at the end of 37th Avenue, offered deed restrictions that preserve it as open space.
"That ensures that it will never get sold or developed," said Susan Craig, a Coastal Commission planner.
For the full article and more photos go here:
http://www.santacruzsentinel.com/ci_19107308?source=most_viewed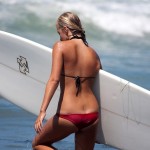 Become A Sponsor!
If you have a product or service that is a good fit for our surf community, we have opportunities for you to sponsor this blog!
Download our media kit now!