VIA – TELEGRAPH UK

Researcher Peter Robinson, from the Museum of British Surfing, said the discovery about the author's pastime had come as a "complete surprise" Photo: SWNS
Agatha Christie 'one of Britain's first stand-up surfers'
This remarkable picture reveals how crime writer Agatha Christie was one of the first people in Britain to try stand-up surfing.
11:31AM BST 29 Jul 2011
The author was an avid bodyboarder after taking up the hobby during a holiday in South Africa with husband Archie in 1922.
But it was during a trip to Hawaii that she picked up the art of surfing while standing up, which experts say was one of the first examples ever recorded by a Briton.
Researcher Peter Robinson, from the Museum of British Surfing, said the discovery about the author's pastime had come as a "complete surprise".
He said: "My research shows in the early 1920s very few British people were surfing and the only one we know about earlier than her, standing up, was Prince Edward.
"It certainly shows a new aspect to her life, she clearly had a passion for the sea and was one of the first wave of new surfers.
"She was such a prolific writer that people tend to associate the image of an older lady writing books like Poirot with the name Agatha Christie.
"But when she was younger she was actually a very accomplished surfer, and one of the first I know of from the UK."
For the full story go here:
http://www.telegraph.co.uk/culture/books/8670354/Agatha-Christie-one-of-Britains-first-stand-up-surfers.html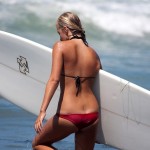 Become A Sponsor!
If you have a product or service that is a good fit for our surf community, we have opportunities for you to sponsor this blog!
Download our media kit now!