Mother nature at her best!!!
VIA – LA NOW
Kayaker has close encounter with blue whale near Redondo Beach
October 17, 2011 | 1:19 pm
A Redondo Beach kayaker has posted a video on YouTube of an incredible encounter with a blue whale earlier this month.
The video, posted on the outdoors blog of former Los Angeles Times reporter Pete Thomas, shows a kayaker up close and personal with a blue whale off the Southern California coast both above and below water.
The YouTube poster, MrRJCtube, described the Oct. 8 experience as "heart pounding excitement," but noted that he does not recommend or endorse trying to swim with whales.
"The whales are large unpredictable animals and potentially dangerous," he wrote.
He posted guidelines from the National Marine Fisheries Service, which note that a whale's behavior should not be interrupted because doing so can cause them to rapidly change direction or swim in an erratice pattern, which can have major consequences for any human-size creatures in the area.
For the full article go here:
http://latimesblogs.latimes.com/lanow/2011/10/kayaker-has-close-encounter-with-whale-near-redondo-beach.html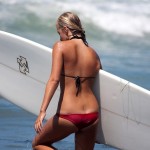 Become A Sponsor!
If you have a product or service that is a good fit for our surf community, we have opportunities for you to sponsor this blog!
Download our media kit now!