VIA – FLORIDA TODAY


Amped surfers ready for Irene's big waves
Others skeptical about accuracy of a five-day weather forecast
7:54 AM, Aug. 23, 2011
When Philip Van Vonderen shared waves with a lineup of six or seven fellow surfers Sunday night at Pelican Beach Park in Satellite Beach, chatter spread quickly: Hurricane Irene might motor offshore from south-to-north along the Space Coast later this week, bringing the biggest waves of an otherwise flat-ocean summer.
"Amped. I'm stoked on it. I'm hoping for solid, head-high swell with that wind," said Van Vonderen, a 21-year-old long-time surfer and sales associate at MTB Surf Emporium in Indialantic.
"We'll sell more leashes, pads, wax, ding-repair kits, fins and even surfboards. Let's hope it gains some strength," he said. "Hopefully, this'll be a solid hurricane."
But while Van Vonderen was amped, other were blasé.
As usual, many barrier-island residents expressed skepticism about a five-day forecast's accuracy.
Hurricane Irene cut a destructive path through the Caribbean on Monday, raking Puerto Rico with strong winds and rain and then spinning just north of the Dominican Republic on a track that could carry it close to Florida and the Southeast as a major storm by the end of the week.
Monday afternoon, longtime Satellite Beach resident Bob Briel strolled the beach in red-and-black boardshorts near Shell Street. This one-block oceanfront avenue was pummeled in 2004 by hurricanes Frances and Jeanne.
Briel said Frances inflicted $100,000 in damages to his house three blocks from the beach. Fierce winds tore shingles from the roof, rainfall leaked inside, and the structure had to be gutted.
Regardless, he said he is not yet worried about Irene.
"I think it's too early to tell, from my experience. (Sunday), it looked like it was going to be right on top of us. Now it looks like it'll be offshore," Briel said.
"I don't think we'll know until Thursday or Friday."
Still, Bob Lay, Brevard County's emergency management director, warned that barrier-island residents should plan to evacuate, if necessary.
Lay said household preparations should include dragging generators out of the garage and firing them up, checking supplies of prescription drugs, filling vehicles with gasoline and knocking the cobwebs off stacks of hurricane shutters.
"We have people who have never put their shutters up. So, they need to familiarize themselves with how to put their shutters up," Lay said. "If they don't have shutters, they should start considering buying plywood."
Beachside businesses are already gearing up just in case.
ABC Liquor in Indialantic enticed State Road A1A motorists with this display sign: "Stock Up: Hurricane Irene Sale."
At Lowe's in Indian Harbour Beach, workers moved a display area of lawnmowers and pressure washers to clear room for pallets stacked with red 5-gallon gasoline cans, portable generators and blue tarps.
"This was set for Labor Day. It's being transitioned into a hurricane-supply area," said Mike Krenn, store manager.
Krenn said sales of bottled water and sheet plywood ticked up Sunday, in accordance with weather reports. He said sales typically increase five days before an approaching hurricane — capped by a final "crazy" rush for supplies.
Lowe's also unveiled six pre-packaged pallets containing flashlights, LED lanterns, light sticks, weather radios and batteries that were shipped in late May. Krenn expected the store to receive six to 12 additional "hurricane pod" pallets by late Monday.
Aside from hardware stores, surfers seemed to be most interested in Irene for now.
Van Vonderen worked Monday at MTB Surf Emporium alongside fellow sales associate Michelle Treu, a 21-year-old Satellite High graduate and veteran surfer.
"Surf has been terrible this summer. It's been horrible," Treu said. "We've had to go skurfing on the boat to make up for it," she said.
Skurfers get towed behind a boat using a rope, like water skiers.
Treu and Van Vonderen said they hope Irene does not follow the path of Tropical Storm Emily, which veered sharply eastward two weeks ago and died deep in the Atlantic Ocean.
Eric Kroungold manages Catalyst, a Melbourne Beach surf shop. He hopes Irene pushes high surf, but he also worries about the home he bought last year in Indialantic. "Hopefully, I'll have a house left," he quipped.
"Who knows? It's exciting. But we're either going to get good surf — or we're going to get slammed. There's a lot of anxiety," Kroungold said.
"It just seems like those (hurricane-projection) paths and the forecasts change every day," he said.
Kroungold recalled surfing enormous overhead waves from Tropical Storm Hanna in September 2008 at "Spanish House," a popular spot north of Sebastian Inlet. That storm's clean waves spawned YouTube videos and quickly became local legend.
For the full story go here:
http://www.floridatoday.com/article/20110823/NEWS01/108230317/Amped-surfers-ready-Irene-s-big-waves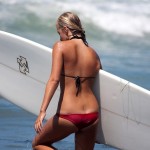 Become A Sponsor!
If you have a product or service that is a good fit for our surf community, we have opportunities for you to sponsor this blog!
Download our media kit now!