Looks like grounds for a lawsuit fing morons…
VIA – NEWS NINE MSN
Anger at 'Shark Men' after bodyboarder killed
A US documentary crew has faced a backlash online after revealing they 'chummed' the waters near the scene of a shark attack at a South African surf spot which killed a 20-year-old bodyboarder.
11:03 AEDT Sat Apr 21 2012
David Lilienfeld was reportedly surfing with his brother when he was attacked and killed by a 5m Great White at the "Caves" surf break near Cape Town on Thursday.
A film crew with the 'Shark Men' program, which has featured on the National Geographic channel, was reportedly 'chumming' – baiting the water to attract sharks – in the area prior to the attack.
Angry South Africans posted comments on the 'Shark Men' Facebook page accusing them of "murdering" Lilienfeld and demanding the practice of chumming be banned.
"Hope you can live with this blood on your hands … at least you got paid right?" Facebook user John Absalom wrote.
"You KILLED-David Lilienfeld!" Raven Contreraz wrote.
The posts came after the show's host Chris Fischer revealed the team had "chummed 24kg of pilchards" while filming between Sunday and Monday afternoon.
The 'Shark Men' crew has expressed their condolences to Lilienfield's family and deny any wrongdoing.
Earlier today, the show posted a link on Facebook to a report by the City of Cape Town suggesting sharks were common in the area and dismissing any link between the film crew's activities and the attack.
"There is no evidence or reason to suggest that the tagging of four White Sharks over a period of 24 hours from Sunday, April 15, to Monday, April 16 … had any role to play in the tragic events," a Cape Town City statement said.
"Public and media speculation linking the two unrelated activities is uninformed and misleading."
Lilienfeld was mauled by a single shark, believed to be a Great White that bit off his right leg while he was bodyboarding with his brother in False Bay some 50km from the city centre.
Earlier in the week, the collaborative project between research group Ocearch and the Shark Men series, which has featured on the National Geographic channel, worked in the large bay.
"White sharks occur in False Bay in healthy numbers throughout the year. The small and limited chumming by Ocearch would not have attracted additional sharks to False Bay," the city's probe into the attack found.
"It is the view of this report that the fatal shark attack could not have been avoided within reasonable means," the statement said.
Cape Town's coastline is a natural habitat for White Sharks, the city said, adding: "An unfortunate, tragic and regrettable result of this will be that, on occasion, shark attacks will occur…"
for the full story and VIDEO go here:
http://www.news.ninemsn.com.au/world/8455019/anger-at-shark-men-after-bodyboarder-killed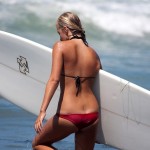 Become A Sponsor!
If you have a product or service that is a good fit for our surf community, we have opportunities for you to sponsor this blog!
Download our media kit now!