Ya…no.  Watch viewership plunge and sponsors bail,  simple.
VIA – YAHOO
ASP World Tour Discusses Charging Online Viewers: Fan's Reaction
By Killeen Gonzalez, Yahoo! Contributor Network 2 hours, 53 minutes ago
The week of March 14th, 2012 the internet was buzzing with rumors that the Association of Surfing Professionals (ASP) has been discussing a pay-per-view approach as a way to keep its World Tour strong. As such, surfing pundits started postulating about how fans would feel about having to pay to watch their favorite surfers compete. As a surf fan and former special events planner, I felt the urge to weigh in on the matter. Here's a quick look at the back story and my thoughts on charging surf fans a pay-per-view fee:
In late February the ASP World Tour had to face the unpleasant task of downgrading the Jefferys Bay competition to a 6-Star event. The downgrade was the result of Billabong's financial difficulties. In my opinion, Billabong's back step was understandable given the circumstances. Nonetheless, surf fans and surfers alike were disappointed. I am also going to assume that Billabong's decision must have caused some consternation among ASP insiders. After all, Billabong currently supports three ASP World Tour events on the 2012 calendar and each carries a substantial prize purse. One of the ideas purportedly being kicked around to help keep the tour strong is to start charging surf fans to watch the competitions online.
My Thoughts
From my perspective, charging fans is a bad idea. Keep in mind that the economy is not just bad for businesses like Billabong. It's bad for surf fans too. Granted, not everyone in America is struggling. There are, however, a lot of people who are. A $100 pay-per-view fee may sound reasonable to some. To others, it could mean having to choose between keeping the lights turned on for another month and watching the next competition. In such a scenario, I assume that even the most die-hard surf fan would chose to pay for items needed for survival over entertainment. With that said, I think that there are other things that the ASP should consider first. For instance, they could solicit more sponsors and limit how many events one business may sponsor at a time. That would reduce the chances of losing multiple tour stops should one sponsor experience financial difficulties. They could also…
For the full story go here:
http://sports.yahoo.com/top/news?slug=ycn-11102502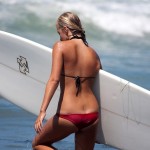 Become A Sponsor!
If you have a product or service that is a good fit for our surf community, we have opportunities for you to sponsor this blog!
Download our media kit now!