VIA – MARGARET RIVER MAIL


Drift the movie may have local launch
MAL GILL
31 Aug, 2011 10:18 AM
THE premiere of the $11m surfing movie Drift, set in Margaret River in the 1970s and starring WA actor Sam Worthington, could be in Margaret River next year.
Producer Tim Duffy on a beach set at Gnarabup last Thursday with Culture and Arts Minister John Day, confirmed a local premiere, or preview event, could be considered as part of the film's Australian launch.
"We'll be talking to our distributors, they're the experts in these matters," Mr Duffy, a former Gracetown surfer who has spent the last eight years in the US, said.
"When the film is ready, we'll go back to our local partners and talk to them, and bear in mind that the local shire council is one of our partners."
Another option, he said, was to launch Drift at one of the local film festivals like CinefestOZ, which has venues at Busselton, Margaret River and Dunsborough, or the Yallingup Surfilm Festival.
Given that the storyline is about two surfing brothers who decide to make wet suits to counter the winter cold, and in doing so establish a fledgling surf industry in Margaret River in the early 1970s, and that the film features surf footage shot exclusively between Cape Naturaliste and Cape Leeuwin, a local launch was "certainly something that will be considered", Mr Duffy said.
Shooting of the film was "almost exactly on schedule" and expected to be completed by September 9, but editing the film was expected to then take about five months, he said.
"There are about 2000 shots in a normal film, but we've got about 4000 because of the (surfing) action sequences."
He said making Drift had been a "dream come true" for the core group involved in writing, producing and directing it.
"This part of the world is so unique, it's amazing. And the response (from locals) has been amazing.
From Page 1
"I always believed the locals would jump on this, and they have. We couldn't have done this without them."
Mr Duffy said between 30 and 40 of the crew of about 100 came from the South West…
For the full story go here:
http://www.margaretrivermail.com.au/news/local/news/general/drift-the-movie-may-have-local-launch/2276552.aspx
For more articles on Sam Worthington's new movie 'Drift' go here:
http://surftweeters.com/?s=sam+worthington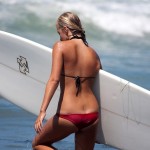 Become A Sponsor!
If you have a product or service that is a good fit for our surf community, we have opportunities for you to sponsor this blog!
Download our media kit now!