VIA – ALOHA UPDATE


Best Local Surf Shops on Oahu
September 24, 2011
The surfing world has become very commercial and so has most of the surf shops on the island. It seems like big mainland companies like Billabong have bought almost every surf shop. If you want to keep your money on island and help support local surf shops here are a couple of the best ones on the island.
Located between the famous Haleiwa bridge and Puaena Point Beach Park, Surf n Sea is one of my favorite surf shops on the island. This store has it all and you will notice that when you walk through the doors and see wall to wall gear, apparel, accessories, and anything you ever could want for a day at the beach. This store has seriously every thing and brand you can think of and even do board rentals, kayaks, SCUBA, tours, and lessons. If your in the North Shore you should definitely make Surf N Sea one of your stops.
I had to represent the west side with Hale Nalu Surf & Bike, which is a locally owned by a native Hawaiian family from Waianae. This surf, bike, skate, dive has it all for those on the west side. The west shores have pumping waves during the summer and winter time and without Hale Nalu surfers on this side would have to drive all the way to Pearlridge to get their surf necessities. Hale Nalu located on off of Farrington Highway near Pokai Bay and is open Monday thru Saturday from 10:00 to 6:00 pm.
Ahhhhhh…T & C Surf Designs brings me back to boogie boarding as a child and getting my T&C stickers and pasting them all over my school binders. The iconic ying and yang logo is part of Hawaii and surf culture. T & C was first started in 1971 Craig Sugihara who based the name around "two epicentres of surf on Oahu, Town & Country." Now 40 years later, T&C has stores all over the island, mainland, and internationally. Every T & C surf shop has everything a surfer needs in the water and even some cool casualwear when out around town.
For the full article go here:
http://www.alohaupdate.com/2011/09/24/best-local-surf-shops-on-oahu/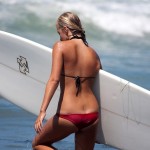 Become A Sponsor!
If you have a product or service that is a good fit for our surf community, we have opportunities for you to sponsor this blog!
Download our media kit now!