VIA – SANTIAGO TIMES
Wednesday, 18 April 2012 18:41
Written by Struan Campbell Gray
World's top big wave surfers will test their skills at Playa Punta de Lobos in Pichilemu.
Every Southern Hemisphere winter, vast low pressure systems line up in the south Pacific, funneling mountains of water toward the Chilean coast. There, surfers from across the globe come to harness this oceanic energy, resulting in epic rides, savage beatings, and an incredible sporting spectacle.
Chilean Ramon Navarro during last year's Quiksilver Ceremonial. (Photo provided by Quiksilver)
On April 5, the waiting period for the Quiksilver Ceremonial big wave competition was officially opened. The event, including 27 elite big wave surfers, is held at the world famous surf spot, Punta de Lobos, near Pichilemu in southern Chile. It is a point break renowned for its perfect but often life threatening surf.
"The wave is spectacular … it has consistent waves over 7 meters high (23 feet) and a natural amphitheater perfect for spectators," official event spokesperson Carlos Ferrer told The Santiago Times. "We have a wonderful coastline, full of perfect waves. Many of the contestants stay on after the competition to surf and make videos, which generates more information about Chile."
To win the event , the surfers will have to paddle into waves of 30 feet and above, battling it out for a US$20,000 prize and the respect derived from conquering one of the world's most challenging surf spots.
"The Quiksilver Ceremonial is one of the most important events of our region and certainly the most important for big waves," Ferrer said. "Each year the number of people attending the event has grown exponentially, with 500 in 2009, 1000 in 2010, and 2,000 screaming supporters lining the cliffs in 2011."
During last year's competition, a light offshore breeze helped groom giant waves for the surfers. Brazilian Marcos Monteiro eventually won the event.
"Last year Punta de Lobos showed its power and perfection – it really is the best place to start the Big Wave World Tour season," Monteiro told Quiksilver. "I won the contest in epic conditions, and have been training hard physically and mentally to compete this year against these incredible surfers fighting for this great title."
One of the most high profile surfers is Ramon Navarro, a legendary figure in Chilean surfing who, for most of his life, has sought to tame the largest and most dangerous waves Chile has to offer.
"Having the first stop of the 2012 Big Wave World Tour season in my backyard is great," said Ramón Navarro, a Punta de Lobos local. "I've been speaking to other competitors too, and everyone's looking forward to the 2012 Ceremonial and another chance to spend time in Chile with friends while surfing gigantic waves."
Other prominent competitors include Ian Walsh, Grant "Twiggy" Baker, Mark Healey, and Rusty Long; all of whom have been nominated for or won "Wave of the Year" awards.
The event comes one year after well known local surfer Paulina Figueroa drowned while surfing Punta de Lobos, reminding all those involved of the risks taken every time one paddles into the line up. ..
For the full article go here:
http://www.santiagotimes.cl/sports/other/23709-big-wave-surf-competition-comes-to-chile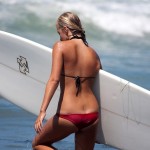 Become A Sponsor!
If you have a product or service that is a good fit for our surf community, we have opportunities for you to sponsor this blog!
Download our media kit now!