VIA – THE SAND PAPER
Board Shaper Bill Kretzer Gives Live Demos at Surf Unlimited
Section TwoBy JON COEN | Jul 12, 2012
By JON COEN | Jul 12, 2012
If you pop into Surf Unlimited at 19th Street in Ship Bottom this summer, you might see a little more than the standard wetsuits, boards, accessories and apparel that line your average surf retail location. Most surf shops – any shops, for that matter – don't want the customer peeking behind the scenes. The out-of-style sweatshirts from 2009, yet-to-be-repaired boards and rental wetsuits don't exactly sell the dream created by surf merchandising. But Surf Unlimited's owner, George Gahles, doesn't have a problem with it. He invites you to stare through the glass.
This spring, Gahles, who bought the shop in 2006 from longtime owner John Gross, retrofitted his garage to become a surfboard-shaping room where Bill Kretzer has been shaping Kretzer Surfboards.
"We felt that there was a niche market that needed to be filled on the Island. No shop has shaped its own boards here in years," shared Gahles. "We will be making boards on LBI that work for LBI. And what better place than one of the island's iconic surf shops, Surf Unlimited? We've been here since 1976."
How this came to be is a true "full circle" story that goes back to 1988 when Bill Kretzer worked for local shaper Skip Miller. Miller had Line Drive Surfboards in Beach Haven and used to shape in front of a large storefront window, where passersby would stop and watch.
Kretzer shaped his first surfboard in 1991. It was a birthday present for his younger brother Mark, a first attempt fueled by coffee and enthusiasm in the family garage in Lanoka Harbor. He cured the fiberglass next to a kerosene heater and called his new label "Home Grown."
"I got into shaping because my father's family owned Kretzer Boat Works on City Island in New York. They built wooden sail and power boats from 1906 to 1976," said Bill.
There was already a label called Home Grown Surfboards (and Pipe Dreams, as he later learned), so he decided on Kretzer Surfboards, similarly to the Boat Works. Soon enough, his youngest brother, Chris, was a rising young amateur surfer and the best possible test pilot for the boards. Kretzer got to spend some time with legendary Hawaiian shaper Glen Minami, who noticed he "had a good eye for design."
Kretzer moved into an industrial park in Forked River in 1996. There he came up with the original idea to cure his boards in a tanning bed. At the height of their popularity, Kretzer Surfboards were sold at Surf Unlimited and Ron Jon Surf Shop, in addition to the now-defunct Body Language, and Beach Nutz. They were in Wave Jammer in Toms River and Grogs in Seaside as well.
"His boards were very popular locally and have been shipped all around the world. Hawaiians told us they've seen his label and still know guys who ride them," said Gahles.
It wasn't a bad gig, but being an independent surfboard shaper is not an easy business. Today there are fewer than five full-time shapers in the state.
Kretzer has done every kind of work from construction to selling luxury sailboats to real estate investment. Today, he's a financial planner with Point Financial in Point Pleasant Beach. In 2010, he and his brother Chris started Moto-Surf, events that combined motocross racing with surfing. Through this, many of Kretzer's motocross friends and some old customers asked him to start shaping boards again.
It had been almost eight years, but he got some materials and began borrowing the Neptune shaping room of Ben Rasmussen, a former LBI surfer who sadly passed away this spring. But people started stopping by and requesting custom boards. Soon enough, Bill was back to shaping in his spare time.
"Things haven't changed much since I stopped," he reported. "The rockers and foils are about the same. The materials are better. The blanks especially are lighter and stronger, and there are different weaves to the glass."
Overall, surfboards have regained more volume overall since Kretzer picked up the planer again, but that doesn't translate to a big difference for him, as he always favored boards a tad more buoyant.
It was Gahles' idea to bring Kretzer into the garage to let people see how boards are made. The two met through Moto-Surf. Bill Kretzer is a long time motocross rider. Surf Unlimited has come on as a major sponsor of the event, and Chris Kretzer has been spearheading Gahles' shop team. Kretzer is still recovering from a bad landing on the motocross track in November 2010, when his tibia snapped and went right through his ankle. So not only is he getting back to shaping, he's also just getting in the water again after almost 20 months.
The shaping of a surfboard is a technical process that involves fine-tuning a polyurethane foam blank, sanding it and getting it ready to be wrapped in its fiberglass shell. Kretzer will be measuring, planing, shaping and sanding foam blanks. The boards will be glassed at Planet Blue Surfboards in West Creek since the Surf Unlimited garage is not equipped with proper ventilation for this process.
The endeavor has led to a partner label where Kretzer will shape custom boards for Surf Unlimited. There are already two boards on the rack up on the shop's second floor, and now Kretzer is digging into a pile of custom orders. And as it has been for more than 20 years, little brother Chris is still the test pilot.
"There's been a few custom orders through the shop, but it's been a lot of pulling the dimensions off someone's favorite shapes. And I don't have any problem with that. It's where custom orders are great because I can talk to the surfer and give feedback on different rockers and outlines," said Kretzer.
Most of the boards sold on LBI are shaped in California or Florida. A growing number are cheaper production boards being mass-produced in Asian factories. Without having to pay shipping costs, Surf Unlimited can offer a rate comparable to the "China" boards, as they are called. But for Gahles and Kretzer, it's about demonstrating something that people rarely see anymore. Last Friday was the first night that Kretzer shaped, and folks trickled to the back of the store to watch.
Kretzer remembers being one of those kids standing at the window of Line Drive, ogling the proverbial puppy in the window, before he ever got a job there. And now he's passing it on.
"The kids get pretty excited to watch a board being shaped," Kretzer explained, "There are so many boards shaped by computer, and I'm not against that at all, but for kids to see the actual craft is something new to them."
Gahles had a few Surf Unlimited team riders come by for a "Surf with the Team" night, designed to let kids be mentored by some of the best surfers on the Island. He plans to coordinate other events around the nights that Kretzer will be shaping.
"George has…"
For the full article go here:
http://thesandpaper.villagesoup.com/ae/story/board-shaper-bill-kretzer-gives-live-demos-at-surf-unlimited/857777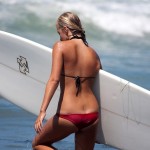 Become A Sponsor!
If you have a product or service that is a good fit for our surf community, we have opportunities for you to sponsor this blog!
Download our media kit now!