VIA – ESPN
Updated: April 3, 2012, 12:40 PM ET
Boards to ring the Bell
Talking differnt boards for round one at Bells.
By Peter 'Joli' Wilson
ESPN Action Sports
Archive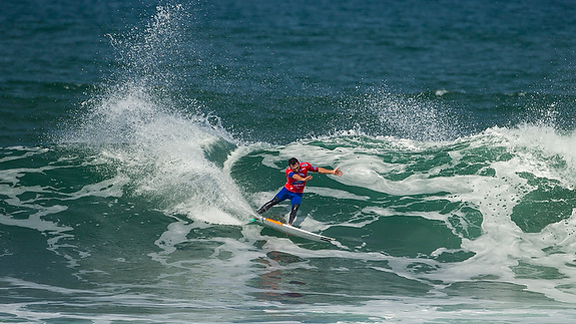 JoliWhen Joel Parkinson has a little more rail to work with, he buries a little more rail.
"Bells is one of those waves where if your first turn is out of sync then your whole wave is out of sync," said the defending champion of the Rip Curl Pro at Bells, Joel Parkinson, after winning his first round heat today.
Parkinson's words might sound like a simple strategy but competing in the variety of waves on offer at Bells Beach might be the most challenging waves on the current ASP world championship tour.
For the past two days the water has been cleared at Bells so the Top 34 can get some practice time ahead of today's start. Watching the variety of equipment that has been tested during these sessions can only lead the observer to believe that even the top surfers in the world are still not quite sure what board to ride at Bells Beach. Channel bottoms, square tails, square round tail, swallow tails — even a singlfin. They were all being tested.
Jump to Tuesday, the first round of the men's event, and you had Kelly Slater testing out boards at nearby Winki Pop, just before his heat, Julian Wilson changing boards mid heat, and Jordy Smith admitting to winning his heat on a stick he hadn't even considered bringing.
"I'd come from Cape Town and packed my quiver. My Dad came from Durban and bought a few boards, and I ended up riding one he brought. I didn't even know he was bringing it. It's a couple of years old but (smiling) it still works."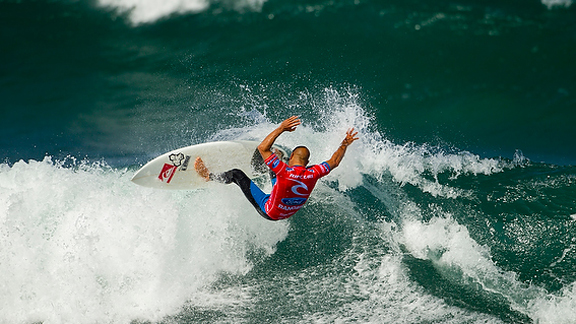 JoliKelly Slater has been using this fo-to stick since last September.
Kelly Slater, who won a low-scoring heat today against Brett Simpson and wildcard Davey Cathels, had been trying out a quad fin, with a new little FCS quarter fifth fin and a traditional thruster at Winki Pop and decided to use what he describes as his 'Go-to board.'
"This is the board I started riding at Trestles last year and I rode it in France, Portugal, San Francisco, and then on the Gold Coast this year, so it's been around for awhile," he said about the craft that was propped up against the Bells Beach stairs as he prepared to sign autographs for the frothing fans. The board had an obvious repair patch on the tail and Slater admitted that he was riding it with a buckle on the top deck.
"I guess it's beaten up a little bit, it's got a buckle right under my front foot that I need to get sorted out, I can feel it too and when I press into it I can feel it buckle. It doesn't quite have that spring back that it had before so I've got to kind of baby it," he said before describing the board.
"It's an epoxy so it's pretty light. It's got a touch more foam under my chest and being epoxy, they float a little better any way, but on a big wave it could be an issue. If I was going really fast it starts to float up above the water too much, but I'm happy with it at the moment."
Slater might have to move to a different board for later in the week if the predicted increase in swell arrives.
Owen Wright won his heat today with a 17.93 total, the highest of the day, and paid homage to the last goofy footer to ring the bell: 45-year-old Mark Occhilupo, who many wanted to see get a wildcard…
For the full article go here:
http://espn.go.com/action/surfing/story/_/id/7769940/2012-rip-curl-pro-bells-beach-day-1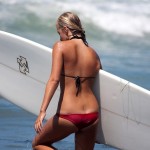 Become A Sponsor!
If you have a product or service that is a good fit for our surf community, we have opportunities for you to sponsor this blog!
Download our media kit now!