VIA – THE AUSTRALIAN
Boutique surf mag paddles into sea of words and ideas
Andy Summons, Tom Batrouney and Andrew Diprose and their new 224-page boutique surf magazine Paper Sea Quarterly. Picture: Aaron Francis Source: The Australian
EIGHTEEN months ago three friends decided surf magazines had lost touch with the real surfing world.
So they decided to create their own and say the difference is it's not a surf magazine, but a magazine for surfers.
Last week Paper Sea Quarterly launched its first issue — "An Issue of Life and Style" — nationwide, featuring some of the world's top surf photographers, surfers and artists.
Distancing themselves from the stereotypical surf story about rad dudes with blond hair and shark tooth necklaces, Paper Sea Quarterly caters to the wider surfing and artistic community, unearthing an edgy world of street art, design, photography, hip hop and of course, surfing. "We're not just interested in the world's top 44 surfers, we've got guys who work in retail, in cafes, but they surf incredibly and they're interesting people with incredible stories," Paper Sea photo editor Tom Batrouney said.
"There is nothing on the market that's similar to it. There are surf magazines aimed at surfers that are only interested in surfing, which makes up a very small percentage of surfers," he said.
Batrouney says every time someone calls their 224-paged tribute to surfing, art and style a magazine he dies a little inside.
"It kills me every time I hear that word, it in no way resembles a magazine, it's 2.5cm thick."
"We're trying to make a book, not a magazine. Something that is not disposable, something you're going to keep going back to and keep reading and keep looking at the photos." The magazine was mostly self-funded, with the help of a few companies that fit the Paper Sea "mould".
"We've definitely tried to target companies we 100 per cent believe in because we're never going to be able to fund something we don't believe in," Batrouney said.
"We've got companies like Klean Kanteen who make environmentally friendly drink bottles, and Patagonia, who are an outdoor clothing company who have had a big focus on surfing for a long time. They make quality stuff that is very environmentally friendly and it lasts for a long time, so that resembles exactly what Paper Sea is."
Batrouney says the magazine has a very small amount of advertising and no editorial.
"Editorial since the very start is the filthiest thing we could ever do; it would take what we're doing from high end and beautiful to trash…"
For the full article go here:
http://www.theaustralian.com.au/media/monday-section/boutique-surf-mag-paddles-into-sea-of-words-and-ideas/story-fna1k39o-1226321653816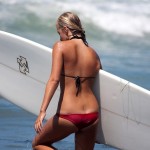 Become A Sponsor!
If you have a product or service that is a good fit for our surf community, we have opportunities for you to sponsor this blog!
Download our media kit now!