VIA – DAILY TELEGRAPH
Bra Boys Mark Mathews and Richie Vaculik story told in Macario De Souza's documentary Fighting Fear
Vicky Roach
National Features
November 09, 2011 9:00PM
GLASSINGS, drunken brawls, reckless partying and obnoxious, lewd behaviour director Macario De Souza doesn't pull any punches in "Fighting Fear", the story of Mark Mathews' and Richie Vaculik's turbulent journey towards manhood.


MMA fighter Richie (Vas) Vaculik (left) and Big Wave surfer Mark Mathews star in the film Fighting Fear. Picture: John Fotiadis
"Macca is one of our best friends, so it was a little bit easier knowing he was making the film," says Mathews, now a professional big-wave surfer.
"But he was also pretty strict whatever happened was going to be in the film; he was going to tell it truthfully. He managed to get Richie's love story in there, so there is not much hidden."
While the film documents a wide variety of behaviour of which the two Bra Boys aren't particularly proud before he was introduced to mixed martial arts fighting, extreme partying was the sport at which Vaculik excelled the two men have embraced the finished product.
"We were mugs growing up. We did a lot of things wrong and you see that in the movie," Mathews says. "But that's what made us who we are today, so having them in there is a good thing for us to see and also for kids, especially in the area we come from."
Mathews and Vaculik are still coming to terms with their unexpected transition from board-riding bad boys to pillars of the community.
"We didn't set out to become role models, but kids have come out of the screenings inspired. If it does turn out that we have some kind of positive influence, that would be pretty cool," Mathews says.
Vaculik cautions commentators not to overstate his case: "There's a lot of footage of me running around with my pants off, so I don't know if I deserve the 'hero' title."
Fighting Fear is De Souza's follow-up to Bra Boys, the 2007 film that went on to become the highest-grossing Australian documentary of all time.
In the doco, he explores how mateship and sporting discipline helped turn the two men's lives around. But all three Bra Boys admit luck also played an important part.
Mathews escaped a potential jail term on a technicality for assaulting a police officer. And he was lucky to walk again after a major wipeout at the notorious Shipstern break off the coast of Tasmania.
Vaculik barely avoided prison after he was charged with breaking a man's jaw during a fight at surfer Mick Fanning's world title celebration party on the Gold Coast in 2007.
De Souza's wake-up call came at high school when he commandeered a roadworks vehicle during a night of partying and wound up with an injury that ended his promising soccer career.
"The three of us had lived and breathed that culture," De Souza says. "We came so close to dying, going to jail, hurting someone else. We were just lucky that … we matured out of it."
While they have all established themselves as a force in their chosen careers De Souza (aka Kid Mac) has a parallel career as a hip-hop artist and will release his debut album next year they have not forgotten their origins.
"We wouldn't be where we are without being pushed by the guys we grew up with," Mathews says…
For the full story and more photos go here:
http://www.dailytelegraph.com.au/entertainment/movies/fighting-off-bra-boys-stigma/story-e6frexli-1226190627229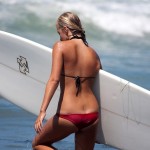 Become A Sponsor!
If you have a product or service that is a good fit for our surf community, we have opportunities for you to sponsor this blog!
Download our media kit now!