Breaking News


[UPDATED with Search Called Off:] Pounding Surf Arrives Early, Apparently Claims Swimmer off Seal Beach
By Matt Coker Thu., Sep. 1 2011 at 3:11 PM
UPDATE, SEPT. 1, 3:11 P.M.: The U.S. Coast Guard called off their search for missing body boarder Joewayne Benford of Long Beach at noon today.
Rescuers from various agencies have searched a 78-square-mile area from Newport Beach up to Long Beach for the 24-year-old, who disappeared in the strong rip currents off Seal Beach Wednesday evening.
Benford's family described him as a strong swimmer.
UPDATE, SEPT. 1, 11:11 A.M.: The U.S. Coast Guard Thursday morning identified the missing swimmer off Seal Beach as Joewayne Benford of Long Beach.
His age has also been corrected; he's 24.
Benford's family was on the beach today, searching for their loved one.
ORIGINAL POST, SEPT. 1, 8:49 A.M.: The heavy surf expected to hit Orange County shores arrived early.
And it's already claimed a victim, apparently.
A 26 24-year-old body boarder disappeared in a rip current off Surfside Wednesday evening.
Only the board had washed ashore at last report.
He and three friends had been tangling with 5- to 7-foot waves with 10-foot surges before his buddies informed lifeguards of the man's disappearance around 6:30 p.m. He was last seen about 200 feet from shore.
As the lifeguard station was closing, the foursome had been told to remain close to shore due to the rough surf, according to authorities.
The U.S. Coast Guard, the Orange County Sheriff Department's Harbor Patrol and lifeguards from Seal Beach and Long Beach participated in the search that stretched overnight and into first light today. Divers, helicopters and patrol boats have been on the scene.
A high tide around 11 a.m. Wednesday flooded the Balboa Pier area, bringing knee-deep water to the pierside park and surrounding neighborhoods. A sand berm was quickly erected, and water had to be pumped out of at least one nearby building.
Heavy surf forecast for the Wedge that was supposed to come today also arrived early, sending bodyboarders into the drink and lookiloos onto the shore.
The Wedge Forecast: 20-Foot Waves
Sets are expected to continue rising there through the weekend, and lifeguards are warning that only expert riders should paddle out into Balboa's world-famous breaks.
For the full surf report go here:
http://blogs.ocweekly.com/navelgazing/2011/09/swimmer_missing_seal_beach_wav.php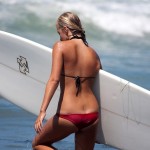 Become A Sponsor!
If you have a product or service that is a good fit for our surf community, we have opportunities for you to sponsor this blog!
Download our media kit now!