VIA – RED BULL


Bruce Irons in Teahupoo – Photostory
by Poncho, Nov 3, 2011
Big Wave surfer Bruce Irons went to Tahiti in August to perform a freesurf in the world's most heavyweight wave to commemorate his brother Andy, who died a year ago this week.


An unlikely campaign began just before the ASP tournament in Teahupo'o, Tahiti, on August 20, when fellow Hawaiian pro surfer Jamie O'Brien Tweeted "Defending champ is dead. His brother Bruce is in Tahiti. R u morons? Put him in your event!" The Tweeting become more and more furious, and got picked up in surf forums around the world. Consequently: "We're honoured to announce Bruce Irons is having a 30min freesurf between the semi and final of the Billabong Pro in loving memory of his brother Andy," ASP spokesman Dave Prodan said. "It's unfortunate that the public and media discussion about Bruce receiving an event wildcard into the Billabong Pro Tahiti seemed to only take place 10 hours before the event started," Prodan told The Australian. "Had proper discussions begun months ago, perhaps something could have been done with the event wildcards to accommodate the situation…"
For the full article and all the photos go here:
http://www.redbull.com/cs/Satellite/en_INT/Article/bruce-irons-in-teahupoo-photostory-by-brian-021243114849045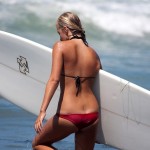 Become A Sponsor!
If you have a product or service that is a good fit for our surf community, we have opportunities for you to sponsor this blog!
Download our media kit now!