It's a start…but let's be honest, Bruce should be in the event. Andy won last year in incredible fasion, it's only right…
VIA – THE AUSTRALIAN
Photo: Bruce Irons is among the most fearless surfers ever to ride Teahupoo.
Bruce Irons will put on an expression session in Tahiti in honour of his late brother Andy

UPDATED Fred Pawle
From: The Australian
August 25, 2011 8:49AM
EVENT organisers will allow Bruce Irons to put on an expression session between the semi-finals and the final of the Billabong Pro at Teahupoo, Tahiti, this weekend.
The session is a compromise in response to a growing campaign to allow Irons to defend the Billabong Pro Tahiti title held by his late brother Andy. Andy died alone in a hotel room in Texas last year after consuming a cocktail of drugs.
Event organisers and the Association of Surfing Professionals hadn't contemplated a way to commemorate Andy Irons' significance during the contest.
For the past few years, the event has been cursed with small swells, and organisers weren't envisaging the need to do anything extraordinary.
However, when it became apparent earlier this week that the event was going to be hit with a spectacularly monster swell, creating the kind of conditions in which Irons thrived and dominated, a murmur among surf fans exploded into a massive online campaign.
And that campaign had one objective: give Bruce, one of the few people in the world who could match Andy in big Teahupoo, a wildcard into the event.
There are two wildcards, both coming from the trials, which ended on August 14 – one for the winner (Brazilian Ricardo Dos Santos) and one for the highest placed Tahitian (Heiarri Williams). Bruce entered the trials, but was eliminated.
The campaign began on August 20, when fellow Hawaiian pro surfer Jamie O'Brien Tweeted "Defending champ is dead. His brother Bruce is in Tahiti. R u morons? Put him in your event!" The Tweeting has become more and more furious ever since, and has been picked up in surf forums around the world.
As the campaign gathered supporters, O'Brien Tweeted to the ASP and Billabong on August 21: "U c anyone disagree with me? No… only u."
Even world champion Kelly Slater backed the campaign, saying in a post-heat interview during round one, "for Andy Irons, we wanted to see Bruce in this contest."
But the campaign was too late, ASP spokesman Dave Prodan said.
"It's unfortunate that the public and media discussion about Bruce receiving an event wildcard into the Billabong Pro Tahiti seemed to only take place 10 hours before the event started," Prodan told The Australian. "Had proper discussions begun months ago, perhaps something could have been done with the event wildcards to accommodate the situation."
One of O'Brien's suggestions is to extend the time limit for the final and make it a three-man heat, with Bruce surfing against the two contenders.
For the full article go here:
http://www.theaustralian.com.au/news/sport/a-groundswell-of-support-for-bruce-irons-surfing-in-the-billabong-pro-is-growing/story-e6frg7mf-1226121768863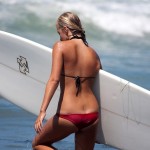 Become A Sponsor!
If you have a product or service that is a good fit for our surf community, we have opportunities for you to sponsor this blog!
Download our media kit now!