VIA – CARLSBAD PATCH
Carlsbad Company Creates Supplements for Surfers & Sponsors Police Surf Team
Created by Nutrilys Del Mar, NUTRISURF is a sponsor of the Los Angeles Police Department Surf Team and Surf Coach USA founded by champion surfer, Sean Mattison.
By Deanne Goodman
April 10, 2012
NUTRISURF is a marine-based daily supplement program created specifically for surfers. It's a combination of shark liver oil, premium oyster powder, wild Alaskan sockeye salmon oil, and pure astaxanthin microalgae in wild Alaskan sockeye salmon oil.
The pills are created by Nutrilys Del Mar in Carlsbad and have been said to improve overall health, joint health, wound healing and stamina performance.
Champion surfer, Sean Mattison is sponsored by the company and said, "I feel vitalized by NUTRISURF's unique supplements and I know that these truly are the very best on the market."
According to Nutrilys Del Mar, company founder Thierry Lerond took into consideration how cold water temperatures challenge an athlete's body…
For the full article go here:

http://carlsbad.patch.com/articles/carlsbad-company-creates-supplements-for-surfers-sponsors-police-surf-team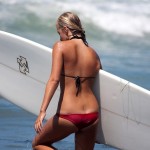 Become A Sponsor!
If you have a product or service that is a good fit for our surf community, we have opportunities for you to sponsor this blog!
Download our media kit now!