VIA NC TIMES
Clay Walking Eagle, left, and Tim Warner carry their paddleboards recently to the Agua Hedionda Lagoon in Carlsbad. The two men train daily for an upcoming 470-mile, stand-up paddleboard expedition from the Golden Gate Bridge to the San Diego-Coronado Bridge.  JOHN KOSTER | For the North County Times
CARLSBAD: Pair plans to paddle from San Francisco to Coronado
When the going gets tough, stand-up paddleboarders and extreme athletes Clay Walking Eagle and Tim Warner will be past thinking about the miles of ocean that lie ahead, the inconsistent, choppy waters of March, the sore arms, the bright sun, or the extreme fatigue.
They'll be thinking of somewhere else.
Africa, maybe. A small village, perhaps, where a well of cool, clean drinking water awaits its first visitors.
Walking Eagle and Warner, both of Carlsbad, are gearing up to paddleboard nearly 500 miles from the Golden Gate Bridge in San Francisco to the San Diego-Coronado Bridge in an effort to raise awareness for Charity: Water, a global nonprofit that raises money to install wells in underdeveloped parts of the world.
"The cause will keep us going," said Walking Eagle, a native of South Dakota who has spent the past few years in Carlsbad working as an artist and wedding photographer.
He, like Warner, is a self-proclaimed adventurist. Both longtime surfers and kayakers, who started paddleboarding four months ago, said they love the ocean, the uncertainly and the thrill of the ride.
When they tossed around the idea of a "boys' trip" along the coast, both knew it would have to be something more. The enjoyment alone wouldn't get them through, Walking Eagle said.
"Just doing this alone would not be fulfilling," he said. "It's the cause."
On March 1, the duo is slated to paddle into the San Francisco Bay, 100 yards to a mile offshore, and head south. The plan is up to 20 miles a day, depending on the weather and ocean conditions. They'll be followed by at least two people on personal watercraft, toting replenishments and encouragement. They predict the voyage could take a month.
At least 10 cameramen will document the journey. The anticipated product, the "Bridge to Bridge" film, will also help raise awareness and to inspire people, the men said.
"Our hearts will be pounding once we enter the San Francisco Bay," said Warner, a native of South Africa who spent several years as a relief worker in Africa. "That's where I became so passionate about the water crisis."
The goal is to raise enough money —- $5,000 —- to build one well, but they don't intend to stop there.
"That's just a basic well for 100 people," Warner said. "Ten thousand dollars is a larger, longer-lasting well."
To train for their expedition, they have spent the past few months mastering stand-up paddleboarding, a sport that requires balance and strength to paddle through water while perched on what resembles a supersized surfboard.
Some days they hit the calmer waters of Agua Hedionda Lagoon in Carlsbad, paddling around a loop several times to master their stroke without having to worry about waves and the uncertainly of the ocean. Some days they'll head off the coast to see what lies ahead.
"I remember telling Tim once, every time I'm paddling and I don't want to go on anymore, I remember why we're doing this," said Walking Eagle, who calls the ocean training a killer.
When they need to, they take small breaks and stretch on their boards. Sometimes, to gain more strength, they work out at a local gym.
Over the course of training, they've picked up some corporate sponsors, providing everything from
Read more: http://www.nctimes.com/news/local/carlsbad/carlsbad-pair-plans-to-paddle-from-san-francisco-to-coronado/article_9a85cc7f-aa75-56aa-b7e3-65190b0b7738.html#ixzz1mJ7YNqHj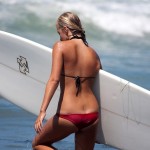 Become A Sponsor!
If you have a product or service that is a good fit for our surf community, we have opportunities for you to sponsor this blog!
Download our media kit now!