Closing down kids stands selling lemonade, now this. $6000 in fines for painting a beautiful mural saying it falls under graffiti is just plain nuts. I can't stand how government laws meddle in our lives as much as they do. I painted a mural on the side of Quinn's health food store in Hollywood when I was 10, it was there for 5 years. If I tried to do that now, I'd be fined or maybe worse…things have to change.


VIA – NCTIMES CARLSBAD
CARLSBAD: Surfing Madonna creator collaborates on fundraising painting
By BARBARA HENRY [email protected] | Posted: Thursday, August 4, 2011 6:00 pm
Mark Patterson, the quiet rogue artist who this spring created the beloved surfing Madonna mosaic in Encinitas, is collaborating with another artist on a roughly half-sized interpretation of the image that will be sold to help cover fines and other fees Patterson incurred when the mosaic had to be removed from public property.
Patterson and Carlsbad artist Bryan Snyder said Thursday that they're just a few days away from being finished with their piece, done with a special "drip-painting" technique.
"The moment that it's finished, people can show interest" in buying it, Snyder said, mentioning that people can email him at [email protected]
The two men hope the painting's sale will help cover the roughly $6,000 in fines, art consultant fees and removal expenses that Patterson incurred when the city of Encinitas forced him to remove his mosaic from a railroad bridge support along Encinitas Boulevard in June.
When the mosaic mysteriously appeared under the bridge just before Easter, it attracted international media attention.
While many tourists and locals raved about the mosaic — a 10-foot-by-10 foot glass-tiled image of Our Lady of Guadalupe on a surfboard, with the words "Save the Ocean" down one side —- city officials said it was an unauthorized art project in a publicly owned place and had to come down.
Patterson was eventually identified as the creator, and he reached an agreement with the city that called for him to take down the mosaic, reimburse the city for various expenses and pay a fine.
Snyder said Thursday that he disagreed with the city's decision to remove the mosaic, so he approached Patterson with the art proposal as a way to help with Patterson's expenses.
Their joint art project also will help keep the memory of the mosaic alive while it's in storage and Patterson decides where its new home will be, Snyder said.
"It's good to keep the memory of it going when it can't be in the streets itself," he said.
Patterson, a Leucadia resident, said that he continues to debate what to do with his mosaic and said it may be awhile before he reaches a decision.
Several Encinitas businesses have expressed an interest in housing the piece, and Patterson also is considering going through the city's standard public art review process in order to gain permission to install the mosaic at the main Encinitas Library building.
On Thursday afternoon, Patterson was enjoying his return to the creative side of the art world, saying he hadn't really done any mosaic work since he finished the surfing Madonna piece.
For the full story go here:
http://www.nctimes.com/news/local/carlsbad/article_fca9ea11-ebeb-59d5-bf75-dbca625a7171.html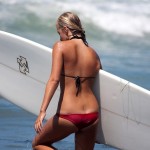 Become A Sponsor!
If you have a product or service that is a good fit for our surf community, we have opportunities for you to sponsor this blog!
Download our media kit now!