I'll be on the jury, I'll be impartial I swear! I'll give that douche bag a completely fair trial…
VIA – ESPN
Channel Islands demands jury trial
By Keith Hamm
ESPN Action Sports
Archive
Lawyers representing Channel Islands Surfboards — the world's largest surfboard manufacturing company under a single label — are demanding a jury trial in response to a lawsuit filed by California surfer Tom Gregg, who claims he suffered a deep fin gash in his lower right leg while surfing in France more than two years ago.
According to Gregg's complaint, filed on Aug. 24 in Los Angeles Superior Court, the surfboard and fins were defective and "unsafe for their intended use." Specifically, the fin was so sharp it caused muscle, tendon, and nerve damage to such an extent that Gregg was told he'd never regain full muscle strength in that part of his leg. He is suing for general damages, medical care, and lost earnings.
Gregg's lawsuit is also aimed at fin manufacturer FCS.
Gregg's lawyer, Jeffrey Karpel, did not respond to repeated requests for comment. Gregg could not be reached for comment.
Channel Islands' response was filed last week in Santa Barbara Superior Court, where the case was transferred in December. In the court documents, Channel Islands denies any wrongdoing, emphasizing that its surfboards are "state of the art" and that surfers who ride them "are knowledgeable and sophisticated users who knew or should have known any dangers associated with use of the product, even in the absence of any warnings."
"We do not think there is any basis of liability," Channel Islands counsel Cliff Schaffer told ESPN, explaining that standing on top of a fast-moving piece of molded foam on a breaking ocean wave is inherently risky, and surfers know that.
Channel Islands' filing also brought in as a defendant C. Brewer Co., the Southern California plastics factory that builds fins for FCS.
Tyler Callaway, director of business development for FCS, said that the company leads the global market in terms of design and its collaborations with top surfers and board builders. "I don't want to comment directly on the case," he added.
An anonymous source with connections to Channel Islands and familiar with the case told ESPN that the accident occurred while Gregg was riding a Channel Islands Biscuit at Chambre d'Armour, in Anglet, France. The source added that Gregg…
For the full article go here:
http://espn.go.com/action/surfing/story/_/id/7503121/channel-islands-surfboards-demand-jury-trial-surfer-lawsuit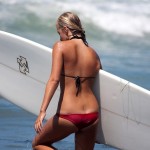 Become A Sponsor!
If you have a product or service that is a good fit for our surf community, we have opportunities for you to sponsor this blog!
Download our media kit now!