VIA – BIZ JOURNALS

Photo – Michael Emery's business, Green Lightning Surfboards, manufactures boards out of recycled materials
Tech and Innovation
Class Act: Riding the wave with ecofriendly surfboards
Boston Business Journal by Don Seiffert, Special to the Journal
Date: Friday, November 18, 2011, 6:00am EST
Michael Emery, 23, grew up in Haverhill, but he's been a surfer since he decided to try to stand up on his boogie board at the age of 5.
So it was a lucky coincidence that when he was sitting in class at Northern Essex Community College in Haverhill and the professor told them they had to design a business plan, he overheard the guy in back of him saying he wanted to create a snowboard company.
"I snapped my head around faster than you could see it, and said, 'Hey man, you want to do this together?' " he …
For the full article go here:
http://www.bizjournals.com/boston/print-edition/2011/11/18/class-act-riding-the-wave-with.html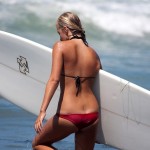 Become A Sponsor!
If you have a product or service that is a good fit for our surf community, we have opportunities for you to sponsor this blog!
Download our media kit now!