VIA – WTSP
Close encounter with possible great white shark off the coast of Florida
8:11 AM, Jul 20, 2012   |   0  comments

http://www.wtsp.com/video/default.aspx?bctid=1744367635001
Fort Pierce, Florida (FL Today) — It was a rare sight, even for 32-year-old Palm Bay spear fisherman Steve Maldonado.
There, coursing beneath the clear, blue waters about 13 miles off the coast of Fort Pierce was 12-to-14 foot-long shark since identified by some as a great white.
The frightening moment elicited shouts of excitement from crew members as the shark continued to follow the diver back toward the "Boaty Call" as Maldonado shot video.
"The diver was worried at the moment but he didn't realize that it was a great white. This something that you just don't see every day," Maldonado said, adding that the diver caught only a glimpse of the creature swimming nearby.
The diver, in 130-foot-deep water with a five-foot long spear gun, climbed into the boat as the shark followed closely.
"The shark stayed with us for about 20 minutes," said Maldonado, who has been spear fishing for the past two years. "Once he got close, we just tossed chum in the water."
The Palm Bay High School graduate, who owns A Cut Above lawn care service in Palm Bay, said the crew was out Saturday participating in a spear fishing tournament. The crew had planned to stay in the deep but moved back to shallow waters after spotting the shark.
"I've seen bull sharks, saw a 14-foot hammerhead shark off of Stuart. Sometimes the bull sharks get so close you have to poke them away, but this…" Maldonado said.
Great whites are a rare sight here, but are occasionally seen off the coast. In June 2011, a scuba diver hunting for amberjack with a spear gun off of the Sebastian Inlet in Brevard spotted and filmed what appeared to be a great white shark silhouetted in murky water.
The sharks can grow more than 15 feet in length and weigh more than 1,500 pounds…
For the full article and video go here:

http://www.wtsp.com/news/article/264546/19/Close-encounter-with-possible-great-white-shark-off-the-coast-of-Florida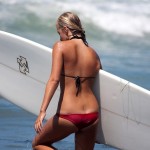 Become A Sponsor!
If you have a product or service that is a good fit for our surf community, we have opportunities for you to sponsor this blog!
Download our media kit now!