VIA – GOLD COAST
Concern over Gilmore assault case delay
AAP   |  12:15pm February 21, 2012
A MAGISTRATE is concerned that the case against a man accused of attacking Tweed Heads surfer Stephanie Gilmore is taking too long, with technical problems further delaying proceedings.
Julius Sterling Guy Fox, 27, is accused of attacking the four-time world champion, leaving her with a fractured wrist and stitches in her head.
He has been charged with three offences relating to the attack, in which the 22-year-old surfer was hit with a metal pole at her Tweed Heads unit on December 27, 2010.
Arrested the day after the assault, he has not entered a plea and remains in custody.
Fox was due to appear in Lismore Local Court today via audio visual link-up but technological difficulties meant the system was offline.
Magistrate Robyn Denes said the case was "becoming a bit long in the tooth".
Ms Gilmore was walking to a set of stairs leading to her apartment when she was set upon.
She suffered a fractured wrist, a cut to the back of her head and cuts to her hand.
She was out of the water for about six weeks after the attack…
For the full article go here:
http://www.goldcoast.com.au/article/2012/02/21/392801_surfing-sport.html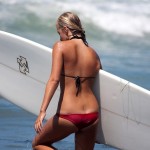 Become A Sponsor!
If you have a product or service that is a good fit for our surf community, we have opportunities for you to sponsor this blog!
Download our media kit now!