VIA – CALLER



Corpus Christi surfboard shaper crafts rides of a lifetime
Local art teacher masters his craft in custom surfboards
By Clay Thorp
Posted August 14, 2011 at 11:42 p.m.
CORPUS CHRISTI — Jason Comstock is a sculptor, painter and craftsman, but you won't find his artwork displayed in any gallery or exhibit.

Instead, the Meadowbrook Elementary School art teacher prefers a new wave approach and functionality.
Since his humble beginnings sweeping the shops and shaping rooms of other South Texas surfboard makers, Comstock, 43, has taken the sport he loves into his own hands.
"Surfing is such a spiritual and sacred thing to me," he said.
Running his hand along the subtle curves of a high-performance short board in his meager garage workshop, Comstock spoke fondly of the history contained in each board he makes.
"There's this DNA, this unbroken thread between all these boards," he said. "All the way back from the ancient Hawaiian Olos to now."
What shapers and surfers have learned from centuries of trial and error, they've translated into a multimillion-dollar industry. The noted names of the surfing industry, companies like Hurley, Billabong and Quiksilver, mass produce millions of boards each year. Prices vary depending on length and design, but most range from $700 to $1,500.
"There's so much mass-production of boards right now," Comstock said. "It's good, because once you find that magic board, you can reproduce it over and over again."
Comstock said most boards are shaped by machines.
"These guys have become a slave to the computer design. That's not me," he said. "If you're so detached from it that you never put your hands on the board, you're not creating anymore. You're not a craftsman. You're just producing."
Randy Lambert, 45, a 20-year Corpus Christi resident and local surfer, said that after buying a board at a local surf shop, he began looking for something more.
"I bought a board off the rack, but once I really started surfing, Jason put me on the right equipment," he said.
Lambert was amazed at the craftsmanship and attention to detail of Comstock's boards, of which he has bought two, including one Comstock repaired after it snapped in half.
"He's very meticulous, and he doesn't get in a hurry," Lambert said. "It's like you're getting a piece of him when you get one."
Comstock begins by shaping a blank from a block of buoyant foam.
During the course of a few days, he sets the fins, coats the board in hand-mixed polyurethane and sands the finished product. For visual effect, Comstock enlists hisart skills, drawing elaborate artwork on his boards.
Kim, Comstock's wife of 15 years, said her husband always has had a love of the sport and of shaping.
For the full story, video and photos, go here:
http://www.caller.com/news/2011/aug/14/corpus-christi-surfboard-shaper-crafts-rides-of/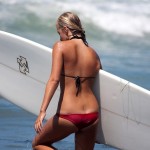 Become A Sponsor!
If you have a product or service that is a good fit for our surf community, we have opportunities for you to sponsor this blog!
Download our media kit now!