VIA – PETE THOMAS OUTDOORS
Dana Point surfer, 13, rides waves for 365 consecutive days


When Meg Roh caught her first wave Friday morning it marked the completion of a remarkable quest. The seventh-grader, who is 13, had been surfing every day for an entire year.
That's 365 consecutive days of paddling out, regardless of how big or small the waves might be, how cold or wind-blown the weather might be, how weary or unmotivated the girl might be.
I talked briefly to Sue Hann, Meg's mother, hoping to get a comment from Meg. But Hann had just dropped her daughter off at school.
"I took her surfing at 6:30 and dropped her off at 8:30, because she didn't want to miss a day of school either," Hann said. (Meg usually surfs with her stepfather, Sam Hann.)
Most surfers would agree that the feat is incredible, largely because conditions on some days are so poor and miserable that even the most passionate wave riders cannot find reason to paddle out. It's also noteworthy that Meg did not miss a day of school during this stretch, and that she has maintained a 4.0 grade average.
Laylan Connelly of the Orange County Register on Thursday night posted a full-length feature on Meg. I borrowed from Connelly's piece for a shorter story that posted Friday morning on the GrindTv website.
In the piece Dennis Kemp, Meg's board maker, stated: "For a girl that young to have that kind of dedication and fortitude, to come out here every day — good, bad, whatever — it's phenomenal. There's a champ in that little body there just waiting to bust out."
To be sure, Meg's story is …
For the full article go here:
http://www.petethomasoutdoors.com/2012/06/dana-point-surfer-13-rides-waves-for-365-consecutive-days.html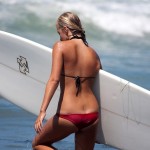 Become A Sponsor!
If you have a product or service that is a good fit for our surf community, we have opportunities for you to sponsor this blog!
Download our media kit now!