VIA – YAHOO!
Dane Reynolds to Visit California's Huntington Beach H.S. June 28, 2012
By Killeen Gonzalez | Yahoo! Contributor Network – 7 hours ago
Fans of pro surfer Dane Reynolds will want to clear their calendars for Thursday, June 28, 2012. The venerable aerial master is expected to make an appearance at the Huntington Beach High School in Huntington Beach, California, that evening as part of a charity event designed to benefit the school's surf team. He's not the only well respected surfer anticipated to be in attendance either. Here are a few more details:
Surfing Event Basics
The charity event is slated to take place on Thursday, June 28, 2012 at the Huntington Beach High School's auditorium located on Main Street in Huntington Beach. The program is expected to start at 6 p.m. and admission is $5. I'd recommend that interested surfers arrive early for two reasons. First, seating is limited and advance tickets are not available. Second, the first folks to arrive at the event are eligible to receive a free Wahoo while supplies last.
The evening is expected to start with a showing of the surf flick, "No Agenda," and end with a question and answer session with Dane Reynolds and others. For those that are unfamiliar with the surf flick, it was produced by Quiksilver and features many of world's best surfers. The film has been making its rounds across America since the beginning of June 2012 as part of the company's "No Agenda Tour." The tour is expected to conclude at the end of the month. Other surfers anticipated to be on hand at the event are Derek Peters, Balaram Stack and Reef McIntosh.
The surf film showing, the Wahoo giveaway and the post-film discussion are not the only things on tap for the evening. A raffle is also planned. Some of the raffle prizes are collectable items like a surfboard autographed by Dane Reynolds. The cost of entering the raffle is $1. All the monies raised during the event are earmarked for the high school's surf team.
About the Surf Team
The Huntington Beach High School Surf Team is comprised of …
For the full article go here:
http://sports.yahoo.com/news/dane-reynolds-visit-california-huntington-beach-h-june-171800200–spt.html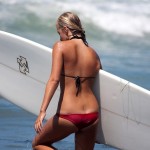 Become A Sponsor!
If you have a product or service that is a good fit for our surf community, we have opportunities for you to sponsor this blog!
Download our media kit now!