VIA – MERC NEWS
Jeff Clark, chief organizer of the Mavericks Festival, said he expects the rain to clear up Saturday afternoon in Princeton-by-the-Sea. (John Green/Staff) ( JOHN GREEN )
Despite low turnout, organizers happy with Mavericks Festival
Posted:   03/31/2012 10:45:09 AM PDT
Updated:   03/31/2012 03:03:01 PM PDT
PRINCETON-BY-THE-SEA — Attendance will be measured in the hundreds, not thousands, but the big-wave community regards Saturday's inaugural Mavericks Festival as a success.
A morning storm threw off the plan for the event, and the grounds were all but empty until early afternoon, when the sun broke through the clouds. When the first band took the stage around 1:30 p.m., the parking lot of the Oceano Hotel & Spa finally began to resemble a party.
"We needed to get our feet wet on the festival," said Santa Cruz big-wave surfer Ken "Skindog" Collins, a member of the of the Mavericks Invitational board. "The sun's out right now. That's all that matters.
The goal was to celebrate the Mavericks community and the surfing that takes place at the break even when a contest isn't called, as was the case this year, he said. Hence the first-ever Mavericks Awards, recognizing the highlights of the 2012 season in the cold, foreboding surf off Pillar Point.
"Every year amaing things happen in the water, and it's overdue to reward that," said Collins, who was nominated for a 45-foot "glassy monster" he rode on Feb. 8.
Bill and Carol Orloff of Bakersfield were among the first people to arrive at the festival on Saturday morning. The self-described "big-wave groupies" are regular visitors to the San Mateo County coast.
"Weather never deters us from a good time," said Bill, 63, as Carol took cover under an umbrella.
Former Oakland A's…
http://www.mercurynews.com/breaking-news/ci_20298165/slow-soggy-start-mavericks-festival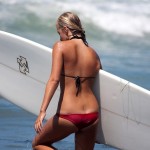 Become A Sponsor!
If you have a product or service that is a good fit for our surf community, we have opportunities for you to sponsor this blog!
Download our media kit now!