VIA – LOOK TO THE STARS

Diane Lane And Josh Brolin Honored At Oceana SeaChange Party



October 4, 2011
This weekend, the largest international ocean conservation group Oceana welcomed special guests Diane Lane and Josh Brolin to the 4th annual SeaChange Summer Party.
Ted Danson, Diane Lane, Josh Brolin at SeaChange Party. Photo:Oceana/Penny O'Donnell
This year's event took place at a spectacular private coastal villa in Laguna Beach. Around 400 guests attended the event to raise over $900,000 for Oceana.
Aimee Teegarden at Oceana SeaChange Party. Photo:Oceana/Penny O'Donnell
The event, which was hosted by actress Angela Kinsey and actor Ted Danson, featured passionate speeches from Academy Award Nominees Josh Brolin and Diane Lane about the need to protect the world's oceans. Other celebrities in attendance included: Aimee Teegarden, Jeff Goldblum, Ed Begley Jr., Q'orianka Kilcher, Oscar Nunez and Austin Stowell.
"We are all here tonight out of love for our oceans, her bounty that feeds us, her beauty and her power that give us true awe," commented Lane. "Oceana is where I turn for leadership in the changes that must be made to save the oceans. But it's up to us to be pro-active, ambitious, far-reaching, deep-reaching in our pockets, demanding the changes in policies, lobbying for tougher laws and enforcing these changes with some teeth. Even if I were not here to speak tonight, I would be here to listen."
Guests were treated to a sit-down dinner, presentations from several of Oceana's directors and supporters, and a live-auction. Party-goers capped the evening with time spent dancing under the stars at the Post Party Lounge.
For the full article and more photos go here:
http://www.looktothestars.org/news/7057-diane-lane-and-josh-brolin-honored-at-oceana-seachange-party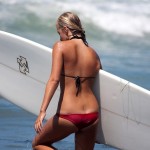 Become A Sponsor!
If you have a product or service that is a good fit for our surf community, we have opportunities for you to sponsor this blog!
Download our media kit now!