VIA – GOLD COAST AUSTRALIA
Dredging stalled to preserve surf breaks
Tanya Westthorp   |  07:29am February 6, 2012
RUIN the Coast's best surf breaks or ignore the treacherous conditions boaties face every day trying to navigate the heavily silted Tweed bar.
This is the dilemma facing the NSW and Queensland Governments with the revelation the Tweed bar channel has not been dredged since 2008 because the sand is dumped near Rainbow Bay and impacts surrounding surf breaks.

A week after a trawler ran aground on the Tweed bar and sank, leaving two fishermen to swim for their lives, management of the Tweed River Entrance Sand Bypassing Project is under fire for stopping regular dredging.
Fishermen say…
For the full article go here:
http://www.goldcoast.com.au/article/2012/02/06/388251_tweed-byron-news.html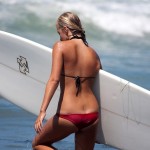 Become A Sponsor!
If you have a product or service that is a good fit for our surf community, we have opportunities for you to sponsor this blog!
Download our media kit now!