Long time coming I'd say…plus love the sexy shot of Dane…
VIA – THE AUSTRALIAN
WILL SWANTON
From:The Australian
March 11, 201312:00AM
Despite performing one of the best moves of the day, Dene Reynolds was beaten by defending world champion Joel Parkinson in round three of the Quiksilver Pro yesterday. Picture: ASP Source: Supplied
THE Association of Surfing Professionals launched a drug-testing blitz on the Roxy Pro and Quiksilver Pro events at the Gold Coast on the weekend.
Competitors were tapped on the shoulder on Saturday and escorted from the athletes' viewing deck to a pocket-sized bathroom beneath the Rainbow Bay Surf Club. Roller doors were shut and locked behind them.
Security guards blocked all entrances.
A sign plastered on a door read Toilets Out Of Order, but this was a mistruth.
Anti-doping controls were conducted from mid-morning until American Dane Reynolds provided the final sample at 4.45pm. Roxy Pro champion Tyler Wright was among those to be tested.
"We've been told we can't really talk about it," one tour surfer told The Australian.
The ASP unfurled its first anti-doping code last year.
Details of tests are confidential unless a competitor is suspended.
Substances such as cannabis and cocaine are listed as "recreational" and attract only reprimands for the first two violations.
The list of prohibited performance-enhancing drugs is aligned with World Anti-Doping Authority guidelines although breaches carry a one-year ban instead of two.
Kelly Slater reportedly claimed last week that recreational drug abuse was "rampant" on tour. He has subsequently denied saying it.
He believes professional surfing is arguably the cleanest sport of all, but has expressed concerns at being tested only once last year.
Stephanie Gilmore was not tested at all while winning the women's world title.
At 41 and still ranked No 2 in the world, Slater would appear to match the profile of a textbook doping suspect.
"The average age on tour has gone up and I don't see why guys should get worse as they get older," Slater countered.
"Maybe at a certain point, like by the time you're 50, you start having chronic injuries that are going to hold you back if you don't deal with them, and if you don't eat well and if you don't get enough sleep.
"But it's also a mental game. There's a lot of keeping your mind open, you have to be willing to move with the changes.
"I'm mature enough now to accept that losing is part of life. If there wasn't heartbreak in things, there'd be no glory."
Australia's Joel Parkinson clashed with Reynolds late yesterday in round three.
It was the world champion against the 27-year-old Californian regarded as the most explosive free-surfer on the planet.
The sudden-death clash had danger written all over it for Parkinson but he posted a glistening 16.04 points to trump Reynolds' 14.77. This was an electrifying heat.
Parkinson's half of the draw opened up with the withdrawal of Hawaiian phenomenon John John Florence because of an ankle injury.
For the original source go here:
http://www.theaustralian.com.au/sport/drug-testers-swoop-on-pro-surfing-circuit/story-e6frg7mf-1226594317845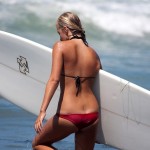 Become A Sponsor!
If you have a product or service that is a good fit for our surf community, we have opportunities for you to sponsor this blog!
Download our media kit now!