VIA – BLOOMBERG BUSINESSWEEK

Dumpster Diver
Designed by Dane Reynolds, a surfboard arises from the scrap heap
Surfboard August 11, 2011, 10:00 PM EDT
By Peter Heller
When Dane Reynolds created the Dumpster Diver, he wasn't out to make the most popular surfboard. He didn't intend to unseat a model, the Flyer, that had held that honor for more than 10 years. He just wanted something that was more fun and higher-performing in the small punchy surf of his home breaks. Something he could drive hard out of a turn and hit the wave's lip with enough speed to do the aerials that have established Reynolds, at 26, as the most go-for-broke surfer in the world. Something that would turn like a swallow and float the landing after doing an airborne 360. So he walked into the manufacturing facility of his surfboard sponsor, Channel Islands Surfboards, in Santa Barbara, Calif., and began to talk with one of the shapers.
Channel Islands is the world's largest single-brand surfboard manufacturer. It was founded in 1969 by a California shaper named Al Merrick. From the beginning, Merrick was committed to rider-driven design, sponsoring the best surfers and relying on constant feedback to create the boards that allowed the athletes to win, or in Reynolds's case, fly.
What Reynolds really wanted was to take a standard, lance-like shortboard, cut out the midsection, squash the nose and the tail together, and fatten it up. Make the tail big and square. According to Aaron Smith, Channel Islands' production manager, the company's shapers looked around for a raw blank, the partially shaped slab of foam from which all surfboards are born, and just couldn't find anything. "Hey," Reynolds said, "this'll work." He fished a foam scrap out of a trash bin, and the two repaired to the shaping room. As Smith tells it, the whole time the shaper was planing the foam, he was muttering, "Dude, this is ugly. This is really, really ugly."
Reynolds didn't care. He surfed the board, and he loved it—at least after a few last tweaks of his own. "When it came back in," says Smith, "it looked like he had smashed the corners of the tail with a rock to change the outline and repaired it. It was even uglier." The Dumpster Diver was born.
In mid-September 2009, Reynolds rode it while devastating the best surfers in the world, including 10-time world champion Kelly Slater, at a legendary surf spot called Trestles near San Clemente, Calif. Reynolds made it to the final heat and lost only to Australian Mick Fanning for second place, his best ASP World Tour finish ever. But he emerged the crowd favorite, and everyone wanted what he had.
"We kinda got caught a little bit with our pants down," says Smith. "We were scrambling." The development team at Channel Islands laser-scanned the brutalized surfboard to generate a detailed 3D image, using an advanced CAD program (the same used by the auto industry to design cars) to reconcile the asymmetries between right and left sides—and smooth out the hammer dents. They sent a computer file to their computer numerical control (CNC) cutting machine. Something that looked like a surfboard—sort of—came out. The machined shape was sanded smooth by hand and fiberglassed. The Dumpster Diver was in stores approximately eight weeks later: $680 at Jack's Surfboards in Huntington Beach, Calif. Channel Islands sells a line of more than 40 surfboards, and 18 months later, the Dumpster Diver now accounts for 15 percent of all sales.
For the full story go here:
http://www.businessweek.com/magazine/dumpster-diver-08112011.html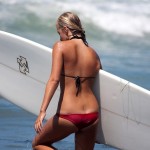 Become A Sponsor!
If you have a product or service that is a good fit for our surf community, we have opportunities for you to sponsor this blog!
Download our media kit now!