VIA – ENCINITAS PATCH
Surf Report & Forecast for September 10-11
Fair conditions, knee-waist high, but consider sewage spill and red tide.
By Judd Handler
11:00am
Encinitas surfers: think twice before you paddle out today for two reasons. First, the massive power failure led to a sewage spill. Beaches from La Jolla to Solana Beach were closed Friday. Even if they are open today, I'd think twice about paddling out.
Also, there's been red tide lately. Some surfers report messed up sinuses when paddling out during a red tide.
So are conditions worth it today? That's your call. Surf is mostly in the knee- to waist-high range with soft lines mixed up from a NW and SW combo weak swells. There'll also be some south wind to keep form in the poor to fair at best condition zone.
Wave heights will hopefully get better and break with punchier energy once the high tide (9 a.m.; 4.9 feet) drains. Low tide is at 2:45 p.m. at 1.3 feet. Evening high is at 8:45 p.m. at 5.6 feet.
Sunset tonight is barely past 7 p.m.
Water temp seems varied, some cold pockets feel like low 60s/high 50s; warmer pockets are mid 60s, though with cooler temps prevailing, expect water temps to dip, even if there's no upwelling.
For the full surf report go here:
http://encinitas.patch.com/articles/surf-report-forecast-for-september-10-11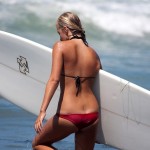 Become A Sponsor!
If you have a product or service that is a good fit for our surf community, we have opportunities for you to sponsor this blog!
Download our media kit now!