Until next time!…
VIA – NORTH COAST TIMES


ENCINITAS: City removes pterodactyl from surfer statue
By BARBARA HENRY [email protected] | Posted: Monday, August 15, 2011 3:40 pm
Cardiff's "Kook" surfer statue returned to normal Monday morning after Encinitas city employees plucked off a huge sculpture of a pterodactyl —- made of fabric-and-PVC-pipe —- and carted away other artistic creatures that appeared around it over the weekend.
Easily the most elaborate re-decorating stunt since a famed great white shark costume appeared about a year ago, the prehistoric scene attracted hundreds of camera-clutching visitors Saturday and Sunday to the Coast Highway 101 sidewalk in front of San Elijo State Beach.
It took two months to make the roughly 15-foot-wide pterodactyl, as well as the background scene and several small dinosaur friends, Riverside County resident Heather Gotoski told the North County Times.
Gotoski said ther brother, local artist Eric Hardtke, built the piece, taking particular care to make certain he wouldn't hurt the surfer statue.
Assistant City Manager Richard Phillips said city employees took the decorations off early Monday morning.
He said Hardtke hasn't notified the city that he was behind the stunt, but said that even if Hardtke came forward the most he would face is a city letter notifying him to cease decorating the statue in the future.
http://www.nctimes.com/news/local/encinitas/article_458454c3-b74a-5a6b-b8c9-5e653609d918.html
For earlier story go here:
http://surftweeters.com/encinitas-news-cardiff-kook-abducted-this-morning-at-700-am/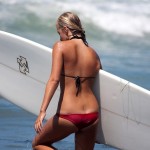 Become A Sponsor!
If you have a product or service that is a good fit for our surf community, we have opportunities for you to sponsor this blog!
Download our media kit now!