VIA – INQUISITR
ESPN Body Issue Sneak Peak: Tyson Chandler, Maya Gabeira, Strip Down In 2012
The ESPN Body Issue celebrates the potential of the human body. This year's magazine features athletes from all around the world with a special focus toward the 2012 London Olympics. Tyson Chandler,  Maya Gabeira, Jose Bautista, and several woman from the US Women's Volleyball Team.
ESPN released the cover of this year's Body Issue (featuring Tyson Chandler) and a few images from the upcoming magazine.
"Each year, we stop to admire the vast potential of the human form. To unapologetically stand in awe of the athletes who've pushed their physiques to profound frontiers. To imagine how it would feel to inhabit those bodies, to leap and punch and throw like a god. To … well, gawk. So go ahead; join us."
The ESPN Body Issue will hit stands on July 13th, just a few weeks before the start of the 2012 London Olympics. The issue features fighters, surfers, soccer players and basketball players but also features several Olympians. Twenty four-year-old decathlete Ashton Eaton, sprinter Carmelita Jeter, and sailor Anna Tunnicliffe will also show off their bodies for the magazine.
Tyson Chandler said:
"'The Body Issue' is a chance for the 'average person' take a good look at athletes bodies and why we are able to do the things we do…. I think a lot of people are curious about it… I wanted people to look at my body and see why I'm able to do the things I do on the court. Also, it's a very artistic shoot, and seeing that in past issues made me want to do it."
Maya Gabeira said:
"I actually have surfed nude. I wouldn't really do it normally because it kinda hurts your boobs…. I feel sexy when I am surfing in my bikini, which is rare because I am usually in a wet suit on a big wave, so when I get the chance to, it feels great."
For the original article go here:
Who made the cut?
VIA – WEBPRONEWS
ESPN Body Issue 2012: Who Made The Cut
By Amanda Crum
ESPN is about to release their annual celebration of athletes in all their sinewy glory in a few days, and the issue is highly anticipated. The magazine will highlight several Olympians this year and will give us a peek at 27 nude bodies we'd kill to have.
The full list of those who stripped down includes:
• Carlos Bocanegra (soccer)
• Daniela Hantuchova (WTA)
• Rob Gronkowski (NFL)
• Abby Wambach (soccer)
• Tyson Chandler (NBA)
• Candace Parker (WNBA)
• Maurice Jones-Drew (NFL)
• Jose Bautista (MLB)
• Brad Richards (NHL)
• Maya Gabiera (surfing)
• Ronda Rousey (MMA)
• Mike Smith (jockey)
• Tim Morehouse (fencing)
• Walter Dix (track)
• Danell Leyva (gymnastics)
• Suzann Pettersen (LPGA)
• Ashton Eaton (decathlon)
• Carmelita Jeter (track)
• Anna Tunnicliffe (sailing)
• Oksana Masters (paralympic rowing)
USA Volleyball Team:
• Destinee Hooker
• Stacy Sykora
• Alisha Glass
• Cynthia Barboza
• Megan Hodge
• Nellie Spicer
• Heather Bown
ESPN is amping up the excitement for the issue–which hits the stands on July 13th–by keeping a countdown widget on their homepage.
For the full story on who made the cut go here:
http://www.webpronews.com/espn-body-issue-2012-who-made-the-cut-2012-07
VIA – FRONT ROW
LOS ANGELES — Hope Solo's dance card seems permanently filled.
The U.S. Women's National Team soccer goalkeeper is cramming in publicity for her ESPN The Magazine The Body Issue photo shoot — she is one of four cover subjects — between regular rehearsals for her gig on ABC's Dancing With The Stars.
Wednesday, she spoke to Front Row about her Magazine shoot after making an appearance on Access Hollywood Live.
The 2011 Women's World Cup star reveals her favorite Body Issue portraits — hers and those of her colleagues — the challenge of disrobing in front of strangers and the athlete she would ask to pose in the 2012 Body Issue if she were in charge of recruiting.
FR: How were you approached to appear in the Body Issue and what was your initial reaction?

Solo: I don't know how I was approached– probably through my agent like most things come through. I've always been a huge fan of the magazine; it's one of my favorites. Of course with the Body Issue I was a huge fan of [U.S. Men's National Team soccer goalie] Tim Howard doing it. I thought his shot was unbelievable and incredibly beautiful. Not just Timmy, but there were many athletes I admired for taking that risk and putting themselves out there. I didn't even have to think about it, it was something I wanted to do.
FR: Which shots of you are your favorites and why? Have you seen anyone else's from this issue?
Solo: My absolute favorite shot, and we were there for hours, we ended up with about six shots and the one that ended up on the cover was my favorite. I saw Blake [Griffin]'s, Apolo [Ohno]'s and Gretchen [Bleiler]'s and every photo was absolutely stunningly superb and very individual to their sport and what they do. Again, I think ESPN allowed the athlete to stay true to who they are as individuals. My favorite shot personally is Blake Griffin's when he is jumping in the air. But I've also got to give my love to Apolo Ohno being from Seattle, of course.
FR: How much of a challenge was posing nude for you?
Solo: It was very tough at the beginning. I remember having my robe on with nothing underneath and it was kind of like the pre-game jitters that you get before a game. I was incredibly nervous and was trying to manage all the nerves. I remember I was ready; I just wanted to get it done and do it and drop the robe and get to work. They had to finish something on the set – the lighting, they had to spray down the road and I didn't want to wait any longer. It was like 'get me out of this cage already!' So I literally walked behind the tent and I dropped the robe just to get that feeling of being naked in the middle of nowhere and I screamed really loud and then I walked in front and was ready.
FR: Where were your pictures taken? When you were tweeting about posing, where were you standing?
Solo: My pictures were taken on a Hollywood set. It looked like it was just a neighborhood full of homes, full of driveways, very domestic setting. It was strange to be naked on such a huge set. It wasn't a closed set or just one room, it was an entire neighborhood so that was a little strange for me. There was one point a car had driven up to try to get on set, he was lost. I did see some random people walking by from time-to-time.
I tweeted in the make-up chair and after the tweet went through ESPN said uh oh maybe we shouldn't have done that.
FR: In terms of bumps and bruises, how does the dancing compare with the soccer?
Solo: I have not one bruise, not one bump from dancing. But it's a whole different world. I am sore in places I never thought I'd be sore — like my hip flexors. It's a lots more extension so I'm getting a lot more range of motion in my shoulder, which I had surgery on 12 months ago. I feel like it's helping my overall, not necessarily strength, but knowing my body more and I think as an athlete you need to know that.
FR: Let's say you're given the job as editor of ESPN The Magazine's 2012 Body Issue.  Pick some sports figures you would recruit to appear in the issue and tell us why you'd want to photograph them…
For more go here:
http://frontrow.espn.go.com/2011/10/hope-solo-on-the-body-issue/
Last years article:
Gretchen Bleiler, Alicia Sacramone, and 20 More Athletes Strip Down for ESPN's 'Body Issue' [Video]
ESPN the Magazine: Body Issue hits newsstands this Friday but the sports network released a few preview photos of the upcoming issue today. Pro snowboarder Gretchen Bleiler and Olympic gymnast Alicia Sacramone are just two of 22 athletes to get naked for the third annual Body Issue.
Here is one of Bleiler's photos from the Body Issue.
Bleiler said: "It's a huge honor to be grouped in with some of the most amazing and skilled athletes in the world. Celebrating Men, women. Every different kind of body, every different kind of sport and showing that everything is beautiful in a very athletic way. I want to be strong and I want to be badass and I think we accomplished that."
ESPN the Magazine: Body Issue, will be released on Friday with four different covers. Bleiler will be on the cover of one magazine, while the other three covers will be occupied by U.S. soccer goalie Hope Solo; the Los Angeles Clippers' Blake Griffin; and the New York Mets' Jose Reyes.
But Bleacher Report points to gymnast Alicia Sacramone as the show stealing athlete of the Body Issue. Here's one of Sacramone's pictures.

ESPN the Magazine: Body Issue will feature photos of 22 athletes. From WNBA stars to tennis players to professional surfers and bowlers, ESPN has selected a diverse group of athletes that all have one thing in common. Fantastic bodies.
ESPN also released a few videos today of the athletes talking about their experience doing a nude photo shoot. Here's a preview of the Body Issue. (You can see more photos here.)
More Maya Gabeira here:
http://vimeo.com/42743904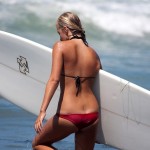 Become A Sponsor!
If you have a product or service that is a good fit for our surf community, we have opportunities for you to sponsor this blog!
Download our media kit now!