VIA – SL TRIB
EU nations back shark finning ban
By RAF CASERT
| The Associated Press
First Published 6 hours ago • Updated 6 hours ago
Brussels • European Union nations on Monday backed a complete ban on the practice of removing sharks' fins before throwing the fish back into the sea to die.
The EU nations said they want all boats in their waters and EU-registered boats anywhere in the world to land sharks with their fins attached. The proposals still need the support of the European Parliament before they can become law.
EU fisheries chief Maria Damanaki said the law would "ease control and help us eradicate shark finning," which she called cruel to the animals and a vast waste of resources.
Sharks are vulnerable to over-exploitation because they mature late and give birth to small numbers of young at a time. Shark fins are in high demand in Asia for soup and alleged cures. Damanaki said some 75 million sharks a year are killed for the use of their fins only, with the EU being the biggest exporter.
As a result, the hammerhead shark is as good as extinct in the Mediterranean Sea.
Under current rules, the EU still has exemptions and special permits for the practice, and the enforcement is so convoluted it is prone to fraud. Damanaki has compared shark finning to killing elephants for their tusks only…
for the full article go here:
http://www.sltrib.com/sltrib/money/53747465-79/ban-shark-sharks-damanaki.html.csp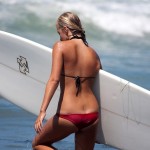 Become A Sponsor!
If you have a product or service that is a good fit for our surf community, we have opportunities for you to sponsor this blog!
Download our media kit now!