VIA – PNJ
Festival to honor Yancy Spencer III
5:12 PM, Feb. 7, 2012
Written by
Innerlight Surf & Skate is inviting the public to a celebration of the life of Yancy Spencer III on Feb. 18 on Pensacola Beach.
The surf and stand-up paddle board event is to commemorate the first anniversary of the death of Spencer, who died on Feb. 14, 2011, after surfing his favorite spot in California.
Participants are asked to gather at "The Cross" on Pensacola Beach, 850 Fort Pickens Road, at 11 a.m. for a day of enjoying surfing, paddling boarding and enjoying the beach.
Everyone is invited to eat chili and …
For all the information go here:
http://www.pnj.com/article/20120207/NEWS01/120207022/Festival-honor-Yancy-Spencer-III?odyssey=mod|newswell|text|FRONTPAGE|p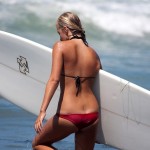 Become A Sponsor!
If you have a product or service that is a good fit for our surf community, we have opportunities for you to sponsor this blog!
Download our media kit now!