VIA – STUFF CO NZ
First known NZ whale birth since end of hunting
Defying extinction
SHAWN MCAVINUE AND ALEX FENSOME
Last updated 05:00 21/07/2012
DEFYING EXTINCTION: A southern right whale and her calf in Colac Bay. The calf is believed to be the first born in Southland, and possibly New Zealand since whaling finished.
The southern right whale was on the brink of extinction but a newborn calf is calling Western Southland home.
Conservation Department biodiversity ranger Ros Cole said she saw the southern right whale cow and her newborn calf in Colac Bay on Thursday.
The calf was born earlier in the week and could be the first southern right whale born in New Zealand since whaling finished, Ms Cole said.
"They were basically hunted to extinction and its pretty special it's chosen Colac Bay."
The very small calf was 4 metres long and weighed about 950kg, she said.
Adult southern right whales grew to about 18 metres, she said.
The gender of the calf was unknown but it was healthy and jet black like its mum, Ms Cole said.
"It's doing well as long as it doesn't get harassed.
"Whale babies need bonding time to suckle freely, and often, without disturbance.
"They need to learn to swim and breathe."
The cow and calf could be seen from the beach with binoculars, she said.
The Conservation Department would take all calls reporting harassment seriously, she said.
"The key message is respect it is a newborn." Southern Right Whales are critically endangered.
Otago University research fellow Will Rayment said if the calf was born off New Zealand it was significant.
Its small size meant it was likely it had been, he said.
Before whaling destroyed their population, the whales would have bred regularly offshore.
"Commercial whaling pretty much wiped them out," Dr Rayment said.
"Now we're starting to see them recover." Calves were seen offshore between two and 10 times a year.
But it was hard to work out where they had been born, Dr Rayment said.
"I'm not sure anyone had ever witnessed…"
For the full article go here: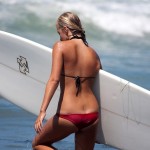 Become A Sponsor!
If you have a product or service that is a good fit for our surf community, we have opportunities for you to sponsor this blog!
Download our media kit now!