VIA – NATIONAL POST
Fisherman on Vancouver Island invents killer-whale powered seal repellent 'Orca-Stra
Feb 24, 2012 – 5:02 PM ET
A Vancouver Island man, who has been fishing for more than 60 years, noticed that the seals commonly found near fishing boats tend to beat a hasty retreat whenever orcas make an appearance. He decided to use the natural repellent of orca calls to scare off the animals. Jon Murray/Postmedia News Files
By Lise Broadley
Comox Valley Echo
COURTENAY, B.C. — Courtenay resident Ron McDonough may have discovered a simple, non-lethal way to prevent seals from ripping hooked salmon off fishermen's lines before they have a chance to reel in their catch.
His contraption, called the Orca-Stra, works much the same as a duck call but rather than attract animals, it repels them. Using the sound of a pod of hunting killer whales, the Orca-Stra repels the bold seals found off the British Columbia coast that often plague fisherman and steal their fish.
The Vancouver Island man, who has been fishing for more than 60 years, noticed that the seals commonly found near fishing boats tend to beat a hasty retreat whenever orcas make an appearance. He decided to use the natural repellent of orca calls to scare off the animals.
"Usually a seal will leave, fearing it's on the menu," he said. "When orcas show up it's similar to an outlaw gang with a keg of beer showing up at a church picnic — everyone else leaves."
McDonough said that orcas, particularly transient pods, prey on seals, sea lions and other marine life. They hunt in groups and they communicate through sound before they close in on their prey. Those sounds, he said, scare the seals enough that they leave the area if they hear them.
The Orca-Stra works both above and below water and it's small enough to carry in a tackle box or jacket pocket. It is shaped like a flashlight, with the speaker facing out of the "light" end. To use it, McDonough said a fisherman need only point it at the seals, turn it on and wait for about 10 to 20 seconds.
McDonough has taken his device out on the open ocean to test "in the field" and so far, he and his friends have had good results.
As a bonus, McDonough said the Orca-Stra has the potential to prevent injury to seals that inadvertently ingest fishhooks or …
For the full article go here:
http://news.nationalpost.com/2012/02/24/fisherman-on-vancouver-island-invents-killer-whale-powered-seal-repellent-orca-stra/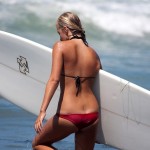 Become A Sponsor!
If you have a product or service that is a good fit for our surf community, we have opportunities for you to sponsor this blog!
Download our media kit now!