VIA – MYFOXTAMPABAY
Giant eye will end up in St. Pete
Posted: Oct 12, 2012 8:16 AM PDT Updated: Oct 12, 2012 8:32 PM PDT
By: Stef DiPietrantonio, FOX 13 News –
bio
ST. PETERSBURG (FOX 13) – A giant eyeball found on the east coast of Florida, is a real-life fish story that's fascinating the world. They're still studying it over near Pompano Beach, but very soon it'll be on the way to St. Petersburg, to the main research hub of the Florida Fish & Wildlife Conservation Commission.
They've gotten calls from England, from Germany — it seems the whole world's got their eye on the giant eyeball. The eye-popping photographs have folks around the world asking who or what does that thing belong to?
"It was round in the sand," said Gino Covacci, who found the giant eye while walking on the beach Wednesday. "I just gave him a kick and it looked at me and I said, 'Wait a minute, this is an eyeball!' Mama Mia!"
"It's kinda between the size of a baseball and a softball," said Kevin Baxter, who is with the Florida Fish & Wildlife Research Institute in St. Petersburg, where the eye will eventually be studied.
"It's kind of an unusual circumstance, we don't have an eyeball hotline for instance," Baxter laughed, as his phone rang non-stop with calls from all over the world from people curious about the giant, ocular orb.
"England, Germany I believe and other places across the United States as well," said Baxter said.  They want to study it and make sure everyone's in scientific agreement, before making any determination.
"It does appear to be a fish of some kind and it would be a large fish," said Baxter,  which would have bones and a spine. He does not believe it's from a squid and Charles Messing with Nova Southeastern University agrees.
"That does not really look like a squid," said Messing. "So I did a  little hunting and I came up with that & that is a Broadbill Swordfish."
"Nah, it's too big for that," said Jim Koehler, a Marine Biologist with the National Park Service on Long Island, NY we ran into in St. Pete on Friday. We showed him the pic on our iPhone.
"Could be a large cetacean, sure," he said, referring to another word for a whale.
"There have been a couple of pretty big tunas…"
For the full article and video go here: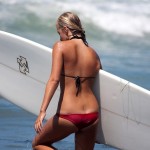 Become A Sponsor!
If you have a product or service that is a good fit for our surf community, we have opportunities for you to sponsor this blog!
Download our media kit now!