By David Ponce
Jumping off a cliff and flying around in a wing suit looks like one of the most amazing things a human can do. Videos like this one have left this editor dreamy for days on time. Jeb Corliss, who like to go by the name The Birdman, is no stranger to this activity. Already famous for videos like this one with almost 11 millions views, Jeb's latest is of an entirely different nature. It's a stark reminder that as awesome as the sport looks, death is really only ever inches away. In the video above, you can see Jeb's lower body impacting rock and breaking every single bone in his legs… and yet he survives.
Well the answer is very simple. I was flying too close and messed up I was going for a black balloon that was basically laying on the rocks and was going to try and kick it with my foot. In order to do this I had to fly low and flat between boulders. My left foot clipped a boulder that dragged me into a flat ledge that I took at the waist at full speed. If I had not clipped that boulder I might have made it, I might have still impacted. It's very hard to tell from the footage. Everything happens very fast. But when you go for a flight where inches are the difference between making it and …"
For the full story go here:
http://www.ohgizmo.com/2012/02/24/wingsuit-adrenaline-junkie-nearly-dies-all-caught-on-several-cameras/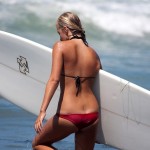 Become A Sponsor!
If you have a product or service that is a good fit for our surf community, we have opportunities for you to sponsor this blog!
Download our media kit now!