VIA – RED BULL
By RedBull.com Team on 24 February 2013 in
Surfing
When Martin Potter gives you advice, you remember it. Here's a tidbit from Pottz that stuck.
Like most young pros, Carlos Munoz has a deep bag of tricks. But, unlike many of his contemporaries, Carlos has a rail game that rivals the sport's heavyweights and it is coupled with a happy yet unwavering spirit. Such dexterity! Now, please allow Carlos to pass along a grand bit of advice.
Carlos: I remember representing Costa Rica at the ISA World Junior Championships in Ecuador when I was 16. I lost my semifinal heat, and Martin Potter noticed that I was crying on the beach. He approached me and told me that he liked my surfing and that I shouldn't get upset. He also told me that a champion never puts his head down, and that really stuck with me. I think it was the best advice I've ever gotten. I'm 20 years old now and I still think of it all the time. A true champion never gives up and holds his head high, no matter if he wins or loses. Pura Vida!
Once a champ, always a champ. Pura vida indeed
Original source:
http://www.redbull.com/en/surfing/stories/1331582454762/great-advice-from-a-really-good-surfer-c-munoz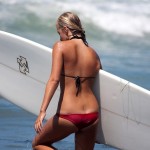 Become A Sponsor!
If you have a product or service that is a good fit for our surf community, we have opportunities for you to sponsor this blog!
Download our media kit now!