VIA – MSNBC
Great white shark sightings prompt swimming ban off Cape Cod
George Breen / CapeCodSharkHunters.com
This photo shows what Cape Cod Shark Hunters says is a 16-foot great white shark in the foreground swimming near a group of seals. The shark was spotted last week north of the Chatham, Mass., harbor inlet in close proximity to popular swimming beaches.
By Sevil Omer, msnbc.com
One Cape Cod town is warning swimmers of a menace lurking in the waters this Fourth of July: great white sharks.
Recent sightings of at least two great whites, including one reportedly measuring up to 16 feet in length, prompted officials in Chatham, Mass., to ban swimming in an an area known for its abundance of seals, according to The Cape Cod Chronicle.
"Chatham issues advisory after numerous shark sightings, banning swimming within 300 feet of seals along eastern coast," according to a statement posted by the Cape Cod Chronicle on its Twitter account on Sunday.
Calls by msnbc.com to the Chatham harbormaster were unanswered on Monday.
George Breen, a pilot for the Sandwich, Mass.-based conservation group Cape Cod Shark Hunters, said he identified two great white sharks during a routine survey flight on June 28. One shark, he said, was seen about a half mile offshore, while the other was just 50 yards from land.
The larger one, a 16-footer, was spotted near North Beach Island in Chatham, he said.
"He was big and close to shore," Breen told msnbc.com.
Breen said the two great whites he spotted did not appear to be the same two tagged last year and detected via transmitter signals picked off Chatham last week. At least eight sharks were tagged for research last year, Breen said.
'We have so many seals'
Shark sightings, including some in near-shore waters, have spiked in recent years as great whites continue to hunt seals off the Chatham coast, said Joe Fitzback, a veteran sea captain with Chatman Bait & Tackle.
"The great whites have always been here and we will have more," Fitzback told msnbc.com on Monday. "We have so many seals that it only makes sense that we will have more sightings as the years go by."
Fitzback said he also spotted a great white shark last week but it was unclear if it was one of the two spotted by Breen. He said his first encounter with a great white came in July 2001, when he was in a boat just a couple of miles east of South Beach.
"They're out there and they're hungry for seals," Fitzback said.
He said shark sightings have become big business…
For the full article go here:
http://usnews.msnbc.msn.com/_news/2012/07/02/12527733-great-white-shark-sightings-prompt-swimming-ban-off-cape-cod?lite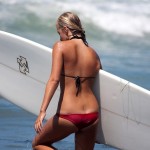 Become A Sponsor!
If you have a product or service that is a good fit for our surf community, we have opportunities for you to sponsor this blog!
Download our media kit now!