VIA – SANTA CRUZ SENTINEL
Gretchen Wegrich, Stoked and Broke: Photo montage warps time in Santa Cruz surf scene
Posted:   04/08/2012 01:30:17 AM PDT
A digital and print photography art show featuring 100 classic shots by surf photographer Bob Barbour stoked out First Friday art enthusiasts and surfers alike at Hula's Island Grill on Friday.
The event, called "Surfing Santa Cruz Since the Seventies: 100 Classic Moments," celebrated the 100th First Friday art tour as well as Santa Cruz's rich surfing history, spanning from the 1970s to the early 2000s.
The show is a glimpse through the lens of former Surfer Magazine photographer Barbour. Barbour's 35-year professional career started in the kelp-strewn waters of Santa Cruz and saw him journey around the surfing globe, chasing perfect waves and documenting the skilled surfers who rode them. He built his career on the fresh angles he found.
"My goal was always to come up with unique stuff that nobody had done," Barbour said. In the competitive world of surf photography, he added, "It's always better to just move on to something new and fresh."
In the early '70s, Barbour landed in Santa Cruz for the winter season on his first assignment for Surfer Magazine. After taking a side job at the Crow's Nest and experiencing the surf mecca of Northern California, Barbour was hooked.
"I'd always wanted to move to Santa Cruz," he said. "I did my winter assignment for Surfer, got a job at the Crow's Nest, and when they said Come home,' I said, I am home.'"
For the next few decades, Barbour stationed himself here while venturing out into the…
For the full article and more photos go here:
http://www.santacruzsentinel.com/outside/ci_20351350/gretchen-wegrich-stoked-and-broke-photo-montage-warps?source=most_viewed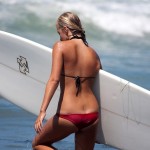 Become A Sponsor!
If you have a product or service that is a good fit for our surf community, we have opportunities for you to sponsor this blog!
Download our media kit now!